Tips to Get the Most from Your Content Marketing
Written by Nick Stamoulis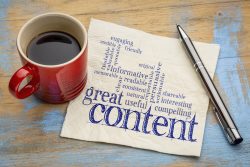 It's so true that content marketing is a great strategy to use when it comes to building your business. There are so many benefits to adopting a great content marketing program, such as building your audience, helping to improve your organic search presence, and giving your audience helpful information. However, there is a lot more thought that goes into creating a great strategy than people might realize. Here are some tips that will help you get more out of your content.
This may seem like it is an obvious thing, but you'd be surprised how often people forget that they need to write content with their audience in mind. The needs of the audience should always be put first, and their needs don't always correspond with the things you feel you need to say. In other words, you should really go the extra step to identify your audience, and make sure your content adds value to their lives. If they find your content informative and helpful, they will be more likely to follow your brand.
Another thing to keep in mind is that you really should have content created for every phase of the buying cycle. For examples hose in the early stages of the buying cycle will be looking for more generalized information that could help them make a purchasing decision later on. By targeting the different phases with your content strategy, you increase the likelihood that they will remain engaged with your brand until they're ready to buy.
Did you know that you can create content for branding purposes? People don't think of content as being a good brand builder, but the truth is that it can really help. If people find your content interesting, helpful, engaging, and valuable, they are more likely to think of your brand favorably. They will also stay engaged with your brand until they buy, and maybe they will even become repeat customers.
Another important item when it comes to content is to make sure that you post consistently. Without consistency, you won't really gain the traction that you expect or desire. However, when you are consistent, this will help increase your results at a fast rate. This gives you more opportunities to rank for organic search. It also gives you a chance to quickly target different segments of your audience and buying cycle.
You should definitely include photos with every piece of content you write. Photos break up the monotony of all the text in the article, and it can increase the likelihood that someone will actually read what you write. However, you can't just choose any old article. You will want to make sure that the photos are the best fit for the content, otherwise it will do more harm than good.
Content marketing can be very helpful to your business. However, you need to make sure you make all the right decisions that will help you get the most of the strategy.
Categorized in: Content Marketing
LIKE AND SHARE THIS ARTICLE:
READ OTHER DIGITAL MARKETING RELATED ARTICLES FROM THE BRICK MARKETING BLOG: