Consistency is Important in Content Marketing
Written by Nick Stamoulis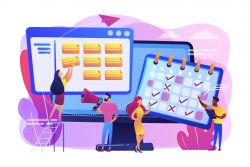 Successful content marketing strategies are an essential part of every business because they serve a variety of purposes. Good content is something that is engaging and informative that captures your audience's attention and helps build brand awareness, can generate traffic, and is also a vital part of an SEO program.  Overall, a well designed content strategy that focuses on consistency in both frequency and quality will add value to your marketing endeavors and can help to set you apart from your competitors.
However, in order to really gain anything from content marketing, it is important to be consistent and hold to a schedule – one that will enable you to create quality content on a regular basis.
Why Being Consistent is Important
Upholding a certain level of quality when it comes to your content can help to legitimize your business and can also help to establish your company as one of the forerunners in your industry and you will get the maximum benefits from this by being consistent. This is due to the fact that your audience will regularly come to you in search of valuable, insightful information.
Create clear and achievable goals when it comes to the frequency in which you post. It can often be challenging to grab the attention of your targeted demographic, and once you have it, it is crucial you hold onto it, which you can achieve through being active on all of your marketing platforms.
Create a Winning Content Strategy
A winning content strategy consists of various elements. For example, you'll want to understand your customer base on a deeper level. You can do this by carefully studying your targeted demographic and assessing factors, such as their age, gender, income, and lifestyle preferences. This will help you to skillfully craft a targeted marketing plan that consists of valuable and consistent content your readers want to consume.
Also, you should focus on diversifying your content strategy to include a variety of marketing platforms, such as social media, article writing, and other types of media. It is essential to be able to meet your customers where they are. If you can branch out, you may be able to amass a more substantial following, boost customer engagement, and increase your overall brand awareness.
Develop Content That Adds Value
Content that has value is the cornerstone of an effective content strategy. Many businesses can get stuck in the cycle of posting mediocre content so they can adhere to their schedules. Consistency in sharing content should never be done at the expense of creating value.  If you have taken the time to study your targeted demographic and to understand their needs, this can play a huge role in your ability to develop valuable content. This will allow you to craft targeted and engaging content that pulls your readers in and provides them with beneficial information that is sometimes hard to come across.
Overall, consistency is important when it comes to creating a competitive edge in the realm of content marketing. If you can create a clearly defined path to success and never lose sight of your goals, you should be able to capture your audience's attention successfully. It comes down to knowing what works, how often you should post, and what will help you to create a niche that differentiates you from the other contenders in your field.
Categorized in: Content Marketing
LIKE AND SHARE THIS ARTICLE:
READ OTHER DIGITAL MARKETING RELATED ARTICLES FROM THE BRICK MARKETING BLOG: