Your Audience Needs to Enjoy Your Content
Written by Nick Stamoulis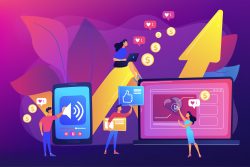 When putting together a business website, much consideration is taken to determine it is well developed, has an excellent layouts and that the content achieves its desired purpose. Each page on your website has a specific function, and it is important to make sure the objective is being met.
The design needs to be easy to navigate and pleasing to the eye. People need to understand how to intuitively navigate the site so that they can find the information they need. Doing all of these things will certainly help enhance the experience people are having on your website. They may even find that your site is pleasant and informative.
However, with all the planning that was done, did you actually stop to really consider whether or not your audience would be happy to find your site? Making sure that they are will serve you well in the long run. Here's more information about this:
Good Content Keeps Your Audience Engaged
You naturally want your content to appeal to your target audience, but many businesses forget that the audience is the chief objective. They are so fixated on trying to get their message across, they often forget what is really important. You need to keep your audience entertained by constantly delivering content that will satisfy their needs and desires.
To do this, you should have a nice mix of content on your site that will engage with people who are present in every stage of the buying cycle. If they know that the information on your website is helpful to them, they will be more likely to become paying customers. In other words, keep them engaged by crafting your content so that it satisfied their needs and desires.
Increase Time Spent on Site
It is true that if your content is good, it will increase the time people spend on your website. This means that they have a greater chance of performing an action, such as signing up for your newsletter or filling out a contact form. Increasing time spend on the site also enhances SEO because search engines tend to reward websites that people want to spend a lot of time on.
They want their customers, the search engine users, to have the best experience possible using their service. If the website has a low bounce rate and people seem to spend a considerable amount of time on, the search engines tend to favor it.
If you think about your own search habits, you'll realize that you do this naturally. When you perform a search query, you have a certain objective in mind. You know pretty quickly if the website will satisfy your needs and if it doesn't, you'll click off the site pretty quickly and try other one on the list.
You want to use this mindset to your advantage by creating content that you know your audience will love. When they do, they'll stay on your website for longer, which will help you reach your goals. When it comes to content marketing, you always want to make sure your content is entertaining, engaging, and helpful. In other words, it's so important that your audience enjoys your content!
Categorized in: Content Marketing
LIKE AND SHARE THIS ARTICLE:
READ OTHER DIGITAL MARKETING RELATED ARTICLES FROM THE BRICK MARKETING BLOG: