Consider Branding with Your Content Marketing
Written by Nick Stamoulis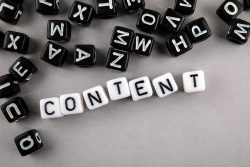 When it comes to branding your business, everything aspect of your digital marketing needs to be in the conversation. According to Webster's Dictionary, a brand is defined as, "a public image, reputation, or identity conceived of as something to be marketed or promoted."
For businesses, a brand represents the way your business is perceived by your audience, and it is something that you do have control over. Every little detail counts, and every part of your digital marketing plan needs to be assessed not only for its effectiveness, but also for your brand. Here's more information about what to consider when determining how your branding will play into your content marketing:
Writing Style
The way in which your content is written will be determined by the persona you want to adopt in your branding. On some level, the writer needs to let the personality of the business come through in the writing, while also allowing it to convey a level of expertise. However, each industry has a certain tone of voice that is most widely received by the audience. Your writers need to strike a balance between letting the unique personality of your company while also honoring the standard mode of communication that your audience expects.
Article Topics
If you share helpful content to your audience though a blog or articles section on your website, the topics that you choose need to be part of your brand. Everything that your company stands for is part of the brand. This includes your values, the products you create, the services that you offer, and the physical appearance of your digital marketing materials, such as  your website and social media.
This means that your brand values and personality need to be considered when deciding on the topics you will cover in your articles. You also need to choose articles that your audience cares about. After all, showing that your care about your audience is also part of your brand.
For example, if you have a tiling business, your content should include helpful articles for your audience, such as how to select the right tile and how to clean your tile once it is installed. These are topics that your audience will care about.
Content Formatting
Did you know that content formatting is considered a part of your brand, too? Branding isn't all about the flashy elements, such as your logo, social media banners, and the physical appearance of your website. It includes everything that is related to digital marketing, and that includes your content.
Content is about more than just writing about a specific topic. The way that the article is formatted is also a factor. Inconsistencies in formatting, such as subheadings varying in size depending on the article, capitalization in titles and subheadings, and inconsistencies in spelling and grammar (for example, if you flip between UK and American style English), can all annoy your audience. Keeping it consistent helps your branding and makes your customer base happy.
As you can see, branding and content marketing go hand in hand! This is worth keeping in mind as you write your content.
Categorized in: Content Marketing
LIKE AND SHARE THIS ARTICLE:
READ OTHER DIGITAL MARKETING RELATED ARTICLES FROM THE BRICK MARKETING BLOG: