Let Us Know Your Digital Marketing Concerns!
Written by Nick Stamoulis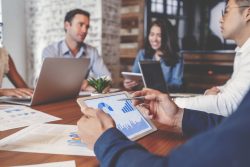 It's true that we help our clients increase their organic traffic through white hat search engine optimization practices. We have a proven track record of success and we know that our methods produce great results. Although this is what we focus on, we have learned that marketing should be looked at from a holistic perspective. All marketing strategies can impact one another, whether it's PPC, SEO, or offline marketing. The end goal is always the same – to drive more business.
Although there are proven marketing strategies that we know work on a consistent basis, there is still room to make some changes and tweaks according to the needs of each individual. Not only that, but since all marketing strategies work together for overall success, it means that even though we specialize in a certain skill set, we are also well versed in other marketing practices. Let us know what's on your mind, chances are pretty good that we can help!
We Are Your Marketing Partner
When you decide to work with us, we consider ourselves your marketing partners. We work with clients across all kinds of businesses. We've worked directly with company leadership and also with marketing departments. Our strategies never change, and we are focused on helping your business succeed by driving more business. As your marketing partner, we want to remain in an open dialog with you about your goals, success, and your concerns.
Is something on your mind? Are you worried about a statistic that you saw? Be sure to let us know. We will tell you honestly what we think of it and if it is a legitimate issue, we will help create a plant that will fix the problem. We can help you, even if it is beyond the scope of SEO.
As your digital marketing partner, we work to find the best strategy for your needs. We work with you to discover your goals, and then align those goals with the best digital marketing program for you. It's all customized. As your partner, we want you to achieve your goals!
It's About Increasing Your Business
All marketing practices have the same end goal – to create more business opportunities that will convert into customers or clients. Since the end goal is the same, your marketing plan as a whole needs to interact well with one another. Since we all have the same goal, it helps increase success when the channels of communication are open and different marketing practices are designed to work well together.
Here's a look at some of the ways the different types of marketing can work well together:
Are you going to a trade show? We want to know about so that we can maximize your appearance in social media.
Do you have a lot of case studies on hadn't to show potential clients? We can repurpose them and post them on your blog in order to give them more exposure.
Are you running a contest? Be sure to tell us so we can create social media posts about them to give the contest more exposure!
These are just a few examples of ways that we can work with your other marketing efforts in order to help your gain more business and exposure.
If you have a marketing concern, don't hesitate to reach out to us! Even if it doesn't relate to social media, content marketing, or SEO, we will have insights that can help you. Not only that, but we have an understanding of how other marketing practices impact SEO. We love to hear from you no matter what your concern is, and chances are pretty good that we have knowledge and insight that can help you out.
Categorized in: SEO
LIKE AND SHARE THIS ARTICLE:
READ OTHER DIGITAL MARKETING RELATED ARTICLES FROM THE BRICK MARKETING BLOG: