Building Traffic Isn't All You Should Care About
Written by Nick Stamoulis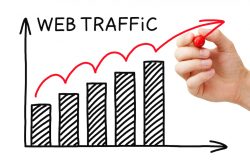 When people start working their digital marketing program, they make the mistake of assuming that monitoring traffic and and making sure it keeps climbing in order to measure success. The truth is, there is a lot that goes into making sure your program, and it all starts before you even get going with your digital marketing. You need to make sure your goals are realistic, that your website is built well, and that you put forth your best efforts when performing activities such as writing content.
As mentioned above, it all start with making sure that you have realistic expectations. The truth is, we all want increased traffic, but it won't be realistic to expect huge surges when you get started. In fact, depending on your industry, you may not ever reach large traffic volumes that other websites might be getting. Your main concern is if this traffic is high quality and leads to new business.
No matter what your goals are or how you develop your digital marketing strategy, you will need to make sure that you start with an SEO audit. This is the best way to ensure that your website is built in a way that will contribute to your success. If it isn't, this is the time to make some changes. You should do this not only when you first start out, but you should also revisit some of these items, such as assessing site speed, on a regular basis to make sure nothing has changed and your numbers are still good.
Do you know how to really measure success? Sure, traffic does tell some of the story, but it doesn't tell the whole thing. Success of your digital marketing campaign is ultimately measured in results. Have you experienced an increase in business and revenue? If the answer is yes, then you are definitely on the right track. How do you measure your campaign's success before you get more business? Well it helps to look at traffic, trends, conversion rate, and more. This all works together to tell you if it is working or not.
In fact, you should actually monitor your data on a monthly basis. While it may be tempting to look at it more often, this isn't completely necessary. You don't want to keep looking at data, only to see that your numbers aren't increases a lot. It is better to look monthly so that you can train yourself to see the big picture.
Content is at the cornerstone of your digital marketing efforts. You need to make sure that it is well written. Otherwise, all your efforts will be for nothing. So, when you do start looking at the data, you will want to take some time to assess how your audience is responding to your content. You should start to see early signs that it is resonating, and if it does, this will likely eventually lead to new business.
When it comes to setting yourself up for success, trying to increase traffic is one of the things you an do. However, it doesn't tell the whole story.
Categorized in: Digital Marketing
LIKE AND SHARE THIS ARTICLE:
READ OTHER DIGITAL MARKETING RELATED ARTICLES FROM THE BRICK MARKETING BLOG: