How Good Does Your Content Need To Be?
Written by Nick Stamoulis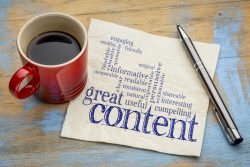 When it comes to carving an effective space for your business online, content marketing remains at the top of the list. It enhances nearly every other strategy that exists in the digital space. Excellent content gives the search engines more chances to rank your pages well in the search results. Great content helps encourage people to click from social media and onto your website. Well written content can even help enhance a social media advertising or pay per click campaign!
It's true that the goal should be to write "great" content. But what does that mean exactly? Here are some insights that can help you create the best content for your business's needs:
Define What "Good Content" Means to You
Saying that content is "good" or even "great" is such a subjective thing. It also isn't a reliable benchmark. An article that one person finds excellent may completely miss the mark for someone else. In order to avoid confusion, it helps to take a step back and think about how you as a business define great content. What does the phrase "great content" mean for your business?
In other words, you need to find way to not only define what "good" means to your business, but you should also find a way to quantify it. Developing a way to measure the effectiveness of your content is a good place to start with this. You should analyze all the standard metrics when assessing content, and this will vary depending on your goals and your business. Here are some ideas:
Traffic. What types of traffic get the most content on your website? How is your content performing overall? Has it led to an increase in traffic?
Conversions. It might also be valuable to measure conversions on your site. Do the conversions correspond with any specific pieces of content on your website?
Your Content Should Please Your Audience
The bottom line is that you want to create content that pleases your audience. If people are reading your content, the material is converting into sales or leads, and if people seem generally happy with what they are reading on your site, then you know that you have the right idea when it comes to your content marketing strategy.
In general, you will want to create content for every phase of the buying cycle. You also should consider publishing content that pleases your existing customers. It is important to not only use content to nurture your leads, but to also use it to build your relationship with your existing customers. After all, it is a lot easier to keep customers happy than it is to get a new customer! Besides, once someone buys something from you, they are more likely to come back for more.
When it comes to creating content on your website, it stands to reason that you want people to enjoy it. However, in order for it to really be effective, you need to know how to define what "good" means to your business.
Categorized in: Content Marketing
LIKE AND SHARE THIS ARTICLE:
READ OTHER DIGITAL MARKETING RELATED ARTICLES FROM THE BRICK MARKETING BLOG: