Boost the Visibility of B2B SEO Content
Written by Nick Stamoulis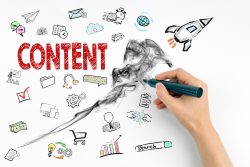 In order for a B2B SEO campaign to be successful, it must include a strong content component. The static content that exists on a website just isn't going to cut it these days. The most powerful links to a website/blog are the ones that occur naturally when an outside party decides that what you have to say is useful/interesting/informative/entertaining etc. In order to achieve these links it requires creating quality content such as blog posts, articles, eBooks, guides, whitepapers, and videos on a regular basis.
Here are 3 ways to boost the visibility of B2B SEO content:
Create informational content
The B2Bs that are having the most success today are the ones that are transparent and actively share information with target audience members. Gone are the days of hiding away all of your trade secrets. People turn to the web for information. If you happen to be the one informing them, that's great. If you continue to be stubborn and shy away from content marketing, all it means is that you are opening the door for your competitors to swoop in and gain that attention. The B2B sales cycle is typically long and decision makers want to make the right choice. B2B SEO content is what will help in the decision making process, and might even be what turns them on to your business or brand in the first place. Spend some time researching the industry to keep prospects informed and write content that is beneficial to target audience members, not just the search engines.
Avoid selling
There is a difference between quality B2B SEO content and advertisements. The B2B SEO content that will have the greatest impact and generate the most links is the content that informs without selling. If a blog post pretty much reads as an advertisement for your product or service, it will be tuned out. The product/services pages of your website is where you can say how great you are. Ongoing B2B SEO content should be purely informational without a sales pitch. This type of content serves as an indirect way to sell because you are showcasing your knowledge and earning trust.

Promote B2B SEO content
Ideally others will be sharing your content over time, but you most likely need to get the ball rolling on your end. Creating the content is really only the first part of the work. The second part involves promoting that content so that target audience members will see it. It might start to rank for some specific long tail keywords over time, but it's not going to happen immediately. B2B social media promotion is the most obvious way to promote. Build up your social media presence and share each piece of content with your social media following that has opted in to receive information from you. Other ways to promote content include placing ads on sites that direct a user to a customized landing page or including a link to the content within an email newsletter.
Categorized in: Content Marketing
LIKE AND SHARE THIS ARTICLE:
READ OTHER DIGITAL MARKETING RELATED ARTICLES FROM THE BRICK MARKETING BLOG: