Is Search Engine Rank Important for B2B?
Written by Nick Stamoulis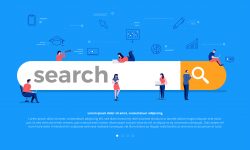 When it comes to marketing your B2B business, there are many strategies available. For those wanting to promote their businesses online, having a website will be at the core of the strategy. From there, other digital marketing strategies, such as content marketing and social media marketing will be in the mix.
One of the core strategies for any business is to create and execute an SEO program that will increase organic traffic to the website. From there, you may be interested in monitoring metrics such as search engine rank in order to assess progress. However, is search engine rank actually important for B2B businesses? Heres' more information about this:
What is Search Engine Rank?
When you perform a query in the search engines about a certain topic, you will be delivered a series of websites that represent the best of these results. The websites that have made it on the first page are said to have a high search engine rank and those that are featured on other pages are thought to not be performing as well.
This means that some pages are performing better than others, and it is up to the algorithms to determine how to arrange the websites when certain keywords are queried.  For example, if your site shows up as the third ranking of the first page for results, it is said that the rank of this page is pretty good.
There is a lot that goes not this. Simply put, each search engine has its own algorithm, and this algorithm will determine the fate of your pages. There are a lot of ranking factors and Google in particularly is fairly mysterious about what these factors are. Factors such as keywords, your link portfolio, page speed, and whether or not your website is mobile friendly can all impact rank.
Can B2B Businesses Control the Rankings?
In theory, the main goal of a search engine optimization program is to help give the website's organic rankings a boost. While this could mean boosting rankings for certain keywords, this shouldn't be the main focus of an SEO campaign. The main idea is to make sure that everything you do creates value for your target audience.
This means that it is not a good idea for B2B businesses to try to control the rankings. Unfortunately with anything related to SEO, there is no way to predict the outcome. The goal and focus should be on not only boosting organic traffic to the website, but making sure this traffic is of the highest quality possible. The goal is to keep your strategies white hat and to always make sure that your online activities are making your audience happy.
So, is rank important to B2B businesses? There's no easy way to answer it. Sure, you want your website to do well in the search engines for certain keywords. However, this should never be at the expense of creating content that has value for your audience.
Categorized in: Digital Marketing, SEO
LIKE AND SHARE THIS ARTICLE:
READ OTHER DIGITAL MARKETING RELATED ARTICLES FROM THE BRICK MARKETING BLOG: