Do You Need a Value Proposition for Digital Marketing?
Written by Nick Stamoulis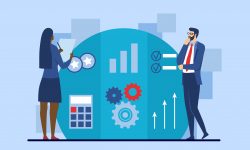 Digital marketing can help businesses expand their customer base and get more sales or leads. However, the truth is that most people decide whether to buy a product based on what it does for them. It is not just about the product's features but also how customers perceive your brand about their needs at the time of purchase. The value proposition is an important part of this process. You need to establish one before you start creating and executing your digital marketing campaigns.
What is a Value Proposition?
To reach your audience effectively and consistently through digital marketing, you must have a value proposition for your audience. It will help you establish brand awareness, loyalty, and relationships with potential customers. The value proposition is the company's tagline, slogan, or mission statement that the company uses to communicate the core of its business.
Why Do You Need a Value Proposition for Digital Marketing?
Builds Brand Awareness
A value proposition helps your customers understand how your product is different from competitors. It helps you differentiate yourself in the market and build trust with customers. A value proposition should be straightforward. This way, it will be easy to share on social media, write paper advertisements and explain them to others.
Reaches Your Target Audience
A value proposition is all about your target audience. It should communicate your value to the customers you want to reach. Your target customers should be able to recognize themselves in your value proposition. The key is to include the words and phrases that are most relevant to the audience you are trying to reach.
Helps Generate Leads
A value proposition is a bridge between your business and your customers. It should be short, catchy, and memorable. The easiest way to generate leads is to create a landing page that includes your value proposition. Your site should offer a clear benefit of your products or services for the targeted audience so that it encourages people to take action, such as signing up for a newsletter.
Develop Brand Loyalty
Customers are much more likely to stay loyal to a business they know and trust. The best way to build trust is through consistency. Use your value proposition in your advertising and communications materials to become part of the company identity.
Build Relationships
Your value proposition can help you develop strong relationships with your customers. It will also provide a platform to communicate with your customers via social media, email, and other channels. It can help you develop long-term customer relationships.
The value proposition should be simple, straightforward, and focused on your target customer. To reach your audience effectively, it should include the essential words and phrases that describe what you're offering. Essentially, you want a value proposition that resonates with your customers and establishes trust. It will help you generate leads, build brand loyalty and become more visible in the market without a physical presence.
Categorized in: Digital Marketing
LIKE AND SHARE THIS ARTICLE:
READ OTHER DIGITAL MARKETING RELATED ARTICLES FROM THE BRICK MARKETING BLOG: