SEO Content Marketing Can Help With B2B Sales
Written by Nick Stamoulis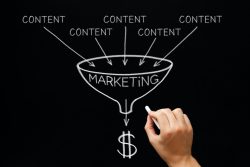 When it comes to SEO, content plays a big role. It has many purposes, such boosting organic presence in the search engines, branding, and developing ways to engage with your audience. Another item that content can help with is that it can absolutely be part of the sales process, especially if you create content for each phase of the buying cycle.
When content is written a certain way, it can help propel leads through the sales funnel in a meaningful way. For B2B sales companies, this means that content marketing should take into account the sales process. Here's more information:
Getting to Know the Buying Cycle
When it comes to B2B, the sales cycle can be rather long. From start to finish, it could sometimes take over a year for the potential customer to move through the buying cycle. Without a way for the lead to stay engaged, it can be tough to keep them engaged with the brand. Content plays an invaluable role with this because it can help keep your business in front of the right eyeballs.
In order to really know what kinds of content needs to be written, however, it is important to become well acquainted with the buying cycle. Not only that, but this is a key reason why sales and marketing departments need to develop a great working relationship. Sales teams might have insights as to what their leads expect through each phase of the cycle, and marketing professionals are often responsible for developing the content marketing plans.
Content That Can Encourage Sales
Specifically, SEO content can even be written in a way that will encourage sales. The key is to think about what types of information people look for when they are extremely close to making a purchase, and then you can give them what they want! Here is a look at some of the types of content that can be written:
Blog Posts. These can be written about anything that is needed. Marketing and sales should work together to develop relevant topics that prospects need covered, such as answers to questions and information about the products or services.
Case Studies. Prospects love seeing case studies and success stories profiling customers who have used the company's products or services. This is also a vital type of content that can be found in the sales cycle, but only if they are written in a genuine way.
Branded Content. Content that relates specifically to the brand is also an important part of the sales cycle. Potential customers are interesting in knowing who they could be doing business with, and they want to feel like the business understands what their needs are. Branded content can help people make purchase decisions because many will make purchases simply because they like the company.
It is true that SEO content marketing can absolutely help with sales. The goal is to brainstorm ways for each stage of the buying cycle to be represented by the content that is created.
Categorized in: SEO
LIKE AND SHARE THIS ARTICLE:
READ OTHER DIGITAL MARKETING RELATED ARTICLES FROM THE BRICK MARKETING BLOG: