Stay Competitive with Digital Marketing
Written by Nick Stamoulis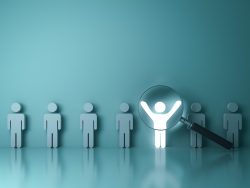 When it comes to running a business, one of your main objectives should be to stay ahead of the competition. Did you know that you can use your digital marketing efforts to help you do use that? In order to really know what you need to do to help your company in a competitive environment, though, it is essential to be aware of what's out there, and then find ways to executing your digital marketing in a way that helps you stand out. Here's a look at what to do that will allow your digital marketing to help you stay competitive in your industry:
Perform a Competitive Analysis
It doesn't matter what your industry is – you will always have competitors. You might be tempted not to bother about their business and focus on your growth. However, this will lead to your company's downfall. To avoid this, you need to always be aware of what's going on with your competitors.
With competitor research, you learn the strategies your competitors use for digital marketing. This helps analyze your strategy to know whether it's effective. Through this research, you learn about the loopholes that your competitors are. As a result, you capitalize on their weakness, making you stand out. Additionally, you'll get to know their strengths in digital marketing. This lets you know which areas to focus on.
A reliable way of conducting a competitor analysis is by looking at your competitors' social media platforms. This lets you know who their audiences are. What's more, you'll know how they respond to your clients' questions. You also need to look at how they grow their client base.
Create the Right Digital Marketing Mix for Your Goals
When it comes to digital marketing, there are no one-size-fits-all solutions. You need to find the best strategy that aligns not only with your goals, but one that will help you remain competitive in your industry. Your digital marketing needs to include a combination of SEO, social media, and content marketing.
Each of the options has different benefits to offer. You'll need to try them out to know whether it's beneficial for your business.
Yet, it's one of the most effective digital marketing strategies that can help you generate leads, increase traffic, and more, depending on what your goals are.
Be Sure to Create Quality Content that Stands Out
One way to convince clients to choose your business is by providing them with great content. In fact, content is one of the most important elements of your digital marketing, as long as you provide your audience with the right content.  Always ensure that the content does not persuade customers to buy your product or service. Instead, provide them with content to help them make a reliable buying decision. The best way to share your content is through video content, as it's growing. Remember to be consistent in providing content to your audience.
It's true that you will always face competition in your industry. How you use digital marketing to remain at the top is important. Ensure to use the different techniques to know which is effective.
Categorized in: Digital Marketing
LIKE AND SHARE THIS ARTICLE:
READ OTHER DIGITAL MARKETING RELATED ARTICLES FROM THE BRICK MARKETING BLOG: