Social Media Automation Pros and Cons
Written by Nick Stamoulis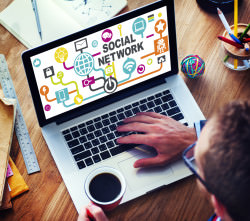 Social media is an important part of every digital marketing strategy. It can help businesses of all sizes in various ways. For example, it can give you the ability to nurture leads, put the word out about your business in front of a larger audience, and let your existing customers know of any deals and specials that you may be running. And those are just a few of the benefits.
Knowing the benefits of social media, businesses have searched for ways to make it easier. Automation is one of the tools they have at their disposal. Some digital marketing experts like to automate, and others don't like it. There are pros and cons to each side of the coin. Here's more information:
Benefits of Social Media Automation (Pros)
There's a lot of good that comes out of social media automation, and many businesses think so, since there are so many tools on the market that you can use. Here's a look at some of the most notable benefits to automation:
It feels easier. Let's face it, automating social media makes the whole process so much easier. All you need to do is set aside a chunk of time to schedule posts in advance, and then you don't need to worry about it for a while.
Saves time. Scheduling your social media ahead saves a lot of time, especially if you are posting every day or multiple times a day. There's no way around this.
Allows you to be consistent. An upside to automation is that it allows you to be a lot more consistent. Sure, it isn't that time consuming to find the time to post each day. However, it is all too easy to let the habit slip unless it is automated. The consistency that automation brings will allow you to gain traction sooner.
Downside of Social Media Automation (Cons)
Although there are plenty of benefits, there is a downside to automating social media, as well. Here's a look at some of the reasons why automation may not be a good fit for you:
Lacks personalization. Most companies that automate are in a "set and forget" mindset. This means that you lose much of the interpersonal engagement that can benefit so many companies. Posting by hand allows you to interact with your followers more.
Can be expensive. These days, there aren't many tools out there that are free. The better automation tools can be expensive, and you might not have the budget. However, most of the social media sites do allow for scheduling up to a certain point. If you need a tool that allows you to post the same thing across multiple platforms, automating through each individual social network probably won't save you that much time, anyway.
The ideal strategy might be somewhere in between the two strategies. Sure, automation can free up some of your time and it does make your life considerably easier. However, you do lose the "personal touch" when you rely strictly on automating.
Developing a strategy that is somewhere in between the two is also an option for certain businesses. However, the strategy you use will depend on your industry. Certain tasks, such as sharing content or doing a "product of the day" type of approach are much better in automation. It all depends on your goals and your industry.
Categorized in: Digital Marketing
LIKE AND SHARE THIS ARTICLE:
READ OTHER DIGITAL MARKETING RELATED ARTICLES FROM THE BRICK MARKETING BLOG: