All About Social Advertising
Written by Nick Stamoulis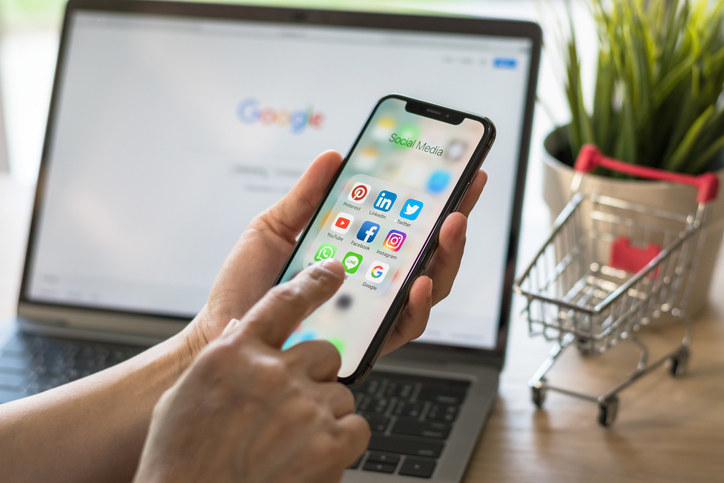 Social advertising refers to the process of making and using clickable ads to reach your focus audiences. You can get to them through messaging apps, websites, social media platforms, and news feeds. Organizations utilize social advertising campaigns to achieve brand awareness, create leads, and grow revenue.
Social advertising is predominantly successful at propelling engagement and conversions. Since social media platforms, such as Facebook and Twitter, present a valuable resource of extremely precise and actionable user information. Hence, audiences are defined based on their buying history and past behavior. Additionally, by how good users correspond with target persona interests.
The targeted audience might be oblivious of the organization and the services and products they offer. But the message has a great opportunity of resonating and triggering an instant reaction, especially in a social media environment that is exceedingly modified and rich in data.
What are Social Advertising Benefits?
Social media infuses daily life. It is where people keep up with loved ones, hobbies, and events daily. According to data, in 2020, more than 3.6 billion people were using social media globally, a figure forecasted to rise to virtually 4.41 billion in 2025. The number of individuals who can be reached through social media is stunning. But there are other merits, probably even more crucial ones, which make social advertising a highly cherished investment.
1. Brand Awareness
Social advertising gives small businesses a slim opportunity of fending off the big corporates within a crowded, noisy industry. As a matter of fact, there is no greater method of reaching the audience—people who are likely interested in a new service or product—particularly based on their characteristics, hobbies, and history. Shares, tags, and likes generate a buzz for a company in a very short time and impact users' social networks.
2. Enhanced Conversion Rates
Social advertising is less likely to prompt an individual's expected resistance to sales. Additionally, how accurately it is targeted owing on how and where it pops up. It also has a chance of grabbing a user's attention, as they are more aggressively engaged on social media rostrums than with mainstream channels. Also, reacting to social ads feels natural because it is simple; acquisitions are a click away. Due to all these explanations, social advertising presents one of the greatest conversion rates of any medium.
3. Efficient Return on Investment (ROI)
Social advertising is a fairly low-cost tactic, which presents ultra-specific user data and unrivaled targeting capabilities. As the campaigns take place, social advertisers can analyze and optimize ad performance. Hence, they end up counting on stable, more predictable response rates. As social advertising drives progress, small businesses can grow swiftly on a small budget.
Social Advertising Tips
Understand what brand objective you are trying to realize
Understand your target audience
Let your organic publication inform the advert
Create your ads with mobile in mind
Compute the outcomes and report on them
What is Social Advertising Platform?
This section will summarize the key benefits of three social advertising channels, including Facebook, LinkedIn, and Pinterest.
1. Facebook/Instagram (Meta)
Facebook has the biggest user base of more than 3.5 billion users globally. Additionally, they have the greatest share of display ads on any social media platform. Ads on Facebook are synonymous with the highest ROI for social promoters. The greatest thing about Facebook is that they are perpetually revisiting their "relevance diagnostics" to give clients the most actionable information and smooth advertising spend.
2. LinkedIn
This is the world's prominent career Networking-oriented platform. In 2022, the platform is expected to have 690 million users, with 4 out of 5 in a managerial position. LinkedIn's cost per click (CPC) can run higher than on other social media platforms, but for brands seeking to reach Business-to-Business prospects, LinkedIn is a firm advertising asset.
3. Pinterest
Many recognize Pinterest as a hub for cooking, fashion, and wedding ideas. And it is synonymous with a huge female user base. The app users are at liberty to "pin" ideas they love, including sponsored content to their boards for linked users to see. Additionally, many people claim they use the app to shop, even if they wait to buy. But 98 percent have tried things they learned on the app.
Social Ad Creation
Social advertising has moderately low cost and complex targeting tools, making it a fertile ground for small businesses, startups, and recognized businesses alike.
Determine Ground Rules
Define the limitations and principles for creative ideas and growth. Begin with business guiding principles linked to fonts, logos, copy, and styling. Then, settle on color schemes and fundamental preferences, such as elegant or dramatic, etc. Lastly, search for current assets which obey these demands.
As more retailers find their way into social advertising, you must know this medium's dos and don'ts and begin improving your tactic. Armed with these tips and actionable objectives to take you through the process, you will stand out from the competition.
Categorized in: Digital Marketing
LIKE AND SHARE THIS ARTICLE:
READ OTHER DIGITAL MARKETING RELATED ARTICLES FROM THE BRICK MARKETING BLOG: