Website Usability: There's a Difference Between Leads and Sales
Written by Nick Stamoulis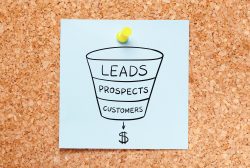 Lead generation is a process of finding prospects interested in your product or service. At the same time, sales prospecting is the process of following up with those leads to gain more information about their needs. Most people think that a website is designed to generate sales, but that isn't the case. It should be designed to generate leads. Otherwise, where would sales get all their prospects?
Here's more information about the dangers of making too much of the content on your website oriented towards sales, and not lead lead generation:
Website Content to Generate Leads Has No Sales Information
A good website for any business has the sole purpose generating new leads. Ideally, the sales team would have their own materials to close the sale. If the website is designed for sales, this interferes with lead generation and your results won't be as good as they could be. Too often, we have seen sales-minded business owners interfere with a website's ability to generate these leads by pushing for sales-oriented content. This turns your readers off, and they will click away from your website, and you likely will never hear from them again.
If you put sales information into your content, this leaves the reader feeling angry and frustrated. They searched for information online. They clicked on your article because they assumed that your content was going to educate them. They don't want to be sold to in this content. If they are, they will click away and will think poorly about your business.
Interruption Marketing Hurts Your Lead Generating Efforts
When it comes to attracting leads online, your website is at the core of this. What attracts people to your website is that they really like the information that you are given them. They feel like you can meet their needs. What happens when you insert sales information into the mix? Well, they fell that you tried to deceive them.
For example, a user searches for information on how to start a certain kind of business. You happen to offer a service that might help this business. They want to get their business going, and that is all they care about. If, in the middle of the article, you start talking about your company and how your company can help them, they are very unlikely to care. In fact, you basically interrupted them. On websites, this is not a good thing. Your leads won't be good, and your business will suffer.
Let's just imagine that you didn't interrupt them with random information about their business. They liked the article. You invited them to fill out a contact form or sign up for your newsletter. So they do it. Now they are a lead that you can nurture. If you interrupted them with your sales-oriented copy, you would have missed out on this potential new business.
Don't make the mistake of thinking that your sales department knows what's best for your website. It is your marketing team that should be driving these decisions. If sales tries to intervene, you should stop them. After all, this will cause your business to suffer over the long term.
Categorized in: Digital Marketing
LIKE AND SHARE THIS ARTICLE:
READ OTHER DIGITAL MARKETING RELATED ARTICLES FROM THE BRICK MARKETING BLOG: