Seasonality Can Be Important for Content Marketing
Written by Nick Stamoulis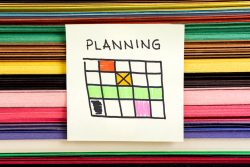 When consumers make decisions, they often follow certain patterns of behavior. These patterns are closely tied to people's lifestyles, which are often driven by the idea of seasonality. The biggest example of this is during the Christmas season, especially for e-commerce businesses. However, there are other seasons that could impact retail, such as Valentine's Day and even Halloween. "Seasons" that could impact B2B include when taxes are due, budgeting cycles, and at a quarter's end.
Overall, businesses should assess the seasonal calendar and determine how these could impact customers. Here's more information as to why seasonality is important for marketing:
Better Engage Your Audience
When you develop content based on seasonal events, it can help pique the interest of potential customers and engage your audience, especially if you're marketing to another business. It's always important to remember the people behind the company you're marketing to. They are familiar with seasonal events and are consumers of content just like you.
The content you create might be related to popular TV shows or series offered by streaming channels. "Game of Thrones" is a good example of a popular show watched by millions of individuals that was shown over several seasons. The content you produce might be quizzes that can be shared on social media, which can help create engagement and share awareness of your brand.
Another great way to engage your audience is by utilizing video. People love moving pictures and by preparing in advance, you can show one or more videos on your main website or through social media, which are associated with a big event sports event like March Madness or holiday such as the Fourth of July.
Stay a Step Ahead of Your Audience
You can stay one step ahead of your audience by using specific holidays to market to them. If you look at the calendar, there's at least one major holiday or special event for each month, which includes special holidays like New Year's Day, Valentine's Day, St. Patrick's Day and Easter. By drilling down to a national or international holiday, you can capitalize on a specific theme, which is associated with the event.
One of the easiest ways to engage with your audience and incorporate this into your marketing is by simply wishing them to enjoy their holiday. It's important to plan for this by adding your target dates to a draft content spreadsheet, which can help you plan out each marketing campaign. If you plan one of these types of campaigns per month, be sure to start your marketing efforts about 10 to 14 days before the event occurs.
Seasonality Can Impact Business
Seasonality can play a huge role in impacting a business. A great example is Mother's Day or Valentine's Day, which helps increase traffic and activity for florists. While this is an obvious example, there are also other, smaller opportunities. The goal is to identify the seasonal trends that really will have an impact on your business and determine how you can best take advantage of it.
Seasonality can be an important part of any content marketing strategy. The goal is to figure out how seasonal patterns impact the market and craft your content strategy to fall in sync with the patterns.
Categorized in: Content Marketing
LIKE AND SHARE THIS ARTICLE:
READ OTHER DIGITAL MARKETING RELATED ARTICLES FROM THE BRICK MARKETING BLOG: