Relationship Building In Digital Marketing Is Important
Written by Nick Stamoulis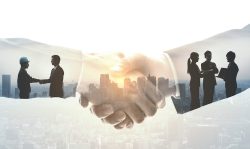 According to Webster's Dictionary, marketing is defined as "the process or technique of promoting, selling, and distributing a product or service." However, there are so many things that can be done to marketing a product or service that it can cause businesses to lose sight of what's really important. One of the key concepts that ties everything together in marketing is the idea that it is all about building relationships. Ultimately, the goal of marketing is to reach out to the target audience and encourage them to use your products or services. With this in mind, businesses can formulate the optimum marketing strategy.
Get to Know Target Audience by Building Relationships
When nailing down a marketing strategy, it is important to get to know the target audience. That way, businesses can understand exactly what makes their audience ticks, which is something that can help drive business decisions. However, businesses won't have this greater understanding of their audience until they take the time to cultivate the relationships they already have with their customers.
Digital marketing tasks such as social media and content marketing can help keep people engaged with the brand, but in order to get a clear idea of what works, the relationship building has to start almost immediately. As businesses begin to execute a marketing strategy in its initial phases, it helps to pay attention to data and analytics in order to learn even more about the audience. Pulling reports on a monthly basis can help with this, and it can help steer your marketing efforts.
Marketing Gets an Edge When Executed With the Audience In Mind
Too often, brands think only of themselves when creating their marketing campaigns. The goal, of course, is to bring in new business. However, focusing too strongly on the business is the wrong way to go about this. Instead, businesses will gain a lot more momentum for the companies by keeping the needs of the target audiences in mind. Once people see that the business is a perfect fit for their needs, they will return to your website, monitor your social media for posts, and possibly even become paying and repeat customers. By cultivating these relationships, it gives both your business and your marketing an edge over the competition.
We all make decisions based on relationships on a daily basis, and this is a concept that extends beyond marketing. For example, if someone has two invitations to dinner and these both fall at the same time, the individual is more likely to say yes to someone that they simply know better. If the relationship people have with your business is a positive one, they will continually say "yes" to you by buying your products and services.
No matter what kind of  digital marketing you choose to do, it helps to understand that it's all about building relationships. If too much of the marketing is focused on the business itself, it will turn people off, which is the opposite of what you want to accomplish. By building relationships, you have a chance to give the audience exactly what they want, which will help grow the business.
Categorized in: Digital Marketing
LIKE AND SHARE THIS ARTICLE:
READ OTHER DIGITAL MARKETING RELATED ARTICLES FROM THE BRICK MARKETING BLOG: