Read Industry Blogs to Improve Your SEO
Written by Nick Stamoulis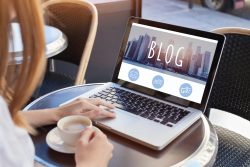 We all know that blogging is an important part of SEO because it creates fresh content on your site and provides an opportunity to target different variations of keywords and get noticed by the search engine spiders. Almost as important as it is to create and publish your own blog posts is to spend some time reading other industry related blogs. In addition to keeping you up to date with what is going on in the industry (which you should know about in order to be considered an expert!) it can also improve your own SEO efforts.
Here are ways in which reading other industry blogs can improve your SEO:
Provides topic ideas
An SEO campaign relies on content. Content is what gets optimized, appears in the search engines for specific keyword phrases, and gets shared in social media improving brand visibility and social signals. A common complaint of SEO clients is "But I don't know what to write about!" The thing is, no matter what industry or niche you are in, there is always something to write about! By reading other industry blogs it might spark an idea of your own. You obviously shouldn't be copying someone else's work, but you can put your own spin on the topic. Or maybe you could expand upon something that was only briefly mentioned in the original post. Check out which posts are getting the most attention (comments, social media shares, etc.) and focus your efforts on related topics.
Blog comment link opportunities
As long as you are taking the time to read other industry blogs, take a few more minutes and leave a thoughtful comment and provide feedback and your own insights. Be sure to link back to your website within the "Website" or "URL" field. If the comment gets published it will result in an inbound link pointing back to your site. Links are still the bread and butter of SEO. Inbound links convey trust to the search engines. They also help to drive traffic to your site. Some blog comment links are "no followed", which means that the search spider isn't considering it, but it is still valuable since a link portfolio should be diverse and include a combination of "do follow" and "no follow" links.
Keyword insights
If you know even a little bit about how SEO works it's relatively easy to pick out the keywords that are being targeted in a blog post. The first place to look is at the title tag. Next, check to see if a keyword in the title is appearing throughout the content. Compare these keywords to the keywords that you are currently targeting. This will give you a better idea of how competitive a keyword might be and what long tail keyword variations are delivering traffic.
Guest blog opportunities
In addition to writing for your own blog, it's important to try and fit some guest blogging into your editorial calendar as well. This will help to build links and improve visibility among people that are interested in the industry. Blog commenting is a good way to get noticed by a blogger and form an initial relationship. Some blogs even list guest posting opportunities right on the site. As you are reading these blogs keep an eye out for this or any other kind of link opportunity from the site.
Categorized in: SEO
LIKE AND SHARE THIS ARTICLE:
READ OTHER DIGITAL MARKETING RELATED ARTICLES FROM THE BRICK MARKETING BLOG: