Handling Trends in Digital Marketing
Written by Nick Stamoulis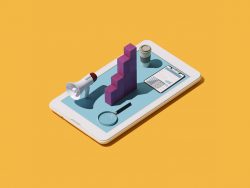 It is inevitable that strategies and methods might change when it comes to digital marketing. Each year, people try to predict what the year's "trends" will be. People eagerly implement these changes without really thinking about it. The truth is, there is a reason why certain digital marketing strategies are part of a regular rotation. It's because they predictably work! You can't necessarily say the same thing about some of the trends.
However, you also don't want to be left out if something will be legitimately helpful. Here's some advice that will help you know how to handle these trends in a way that will help, and not hurt, your business's digital marketing efforts:
Have Realistic Expectations
First of all, when it comes to your digital marketing, it helps to have realistic expectations. Sometimes, people chase the trends when they are impatient because they aren't seeing results. This is the wrong attitude to have! Just because a trend is new and shiny doesn't mean that it will actually benefit your company. However, if you are impatient with getting results sooner than later, it may drive you to make erratic decisions with your digital marketing. When you experiment with trends too soon, this could ultimately hurt your brand.
The truth is that digital marketing strategies always work, it's just difficult to predict when. If you work with a reputable firm that has a time-tested process, then you know that the strategies will work eventually. If you start wanting to try out the trends, this could dilute your efforts and it may affect how quickly you actually see results from your foundational program. Before you start playing with the trends, you need to make sure that you are doing so for the right reasons – to get better results – and not out of impatience.
Create a Strong Foundation
Before you even think about embracing trends, you should make sure that you create a strong foundation with your digital marketing. This means that you should have a handle on what your ideal audience looks like, your content marketing, social media, and the other, standard elements of your digital marketing. Once this plan is underway and you're starting to see some results, you can begin experimenting with some of the trends that might be out.
However, you should be careful and not approach these trends in an aggressive way. Choose maybe one or two to experiment with, but this should never be done at the expense of your foundational program. You should always work the foundational activities of your digital marketing plan, such as posting regular content and making regular posts on social media. After that, you are free to do any experiments you want, as long as it doesn't hurt your brand.
When it comes to digital marketing, not all trends are worth embracing. Some are better than others, and not all of them will stand the test of time. This is why you should be very careful about how you deal with them with your digital marketing. Plus, if you try to do too much, this could do more harm than good and set your progress back.
Categorized in: Digital Marketing
LIKE AND SHARE THIS ARTICLE:
READ OTHER DIGITAL MARKETING RELATED ARTICLES FROM THE BRICK MARKETING BLOG: