Google Analytics Data to Pay Attention To
Written by Nick Stamoulis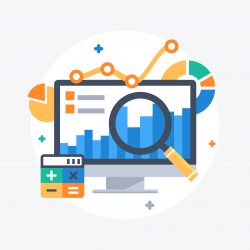 One of the first things that you should do once your website is up and running is to add Google Analytics to the site. Google Analytics is a free tool by Google that provides you with data about the performance of your site. Without Analytics, you are essentially operating your site blindly. How are you going to make changes or improve upon your site if you don't know what's working and what's not? Even though Analytics is free and it's relatively easy to put the code onto your site, many website owners still aren't taking advantage of it. For those website owners that have Analytics set up, many aren't quite sure what to do with all of the data.
For SEO purposes, here are the 3 most important data points to pay attention to:
Visitors
The goal of an SEO campaign is to improve visitor growth to the website over time. While the number of visitors to a site can fluctuate month to month (especially if you offer a seasonal product or service), throughout the course of an SEO campaign you should notice a gradual upward trend in visitors. There are two visitor reports to pay attention to. The first is the "All Visitor" report, which tells you where each and every visitor to the site came from. Take a look at the referring sites. Are they sites that you have been actively building links on? If not, maybe there is an opportunity there to enhance your presence even further. Link building is important to gain search engine trust, but ultimately you want your links to also send visitors to your site. The second report to pay attention to is "Organic Visitor" data. This will show you how many visitors came from organic search, as opposed to PPC or other referral sites. Again, there should be an upward trend over time in the number of visitors coming from organic search.
Keywords
Google Analytics provides a report of all of the keywords that people used to land on your site. You can even break it down further by looking at the keywords that brought visitors to each individual page of the site. Many website owners will find that the top keywords are branded, especially if the business has a strong brand name already. While branded search plays a role in SEO, the goal of SEO is to ultimately bring traffic from visitors that aren't conducting a branded search. Take a look at all of the keywords that are delivering traffic. Do they make sense? Are they in line with the keywords that you are targeting on the site? You may see some great long tail keywords that you can begin to incorporate as anchor text keywords throughout the content that you create going forward.
Social media
Social media has become an important part of an SEO campaign. Content that is shared in social media helps generate "social signals" that convey trust to the search engines. Google Analytics will tell you which social sites are sending traffic to your website. This data can help you modify your social media activities based on what's working and what's not. For example, if one social site seems to be sending the lion's share of social traffic to your site, it would make sense to focus more efforts on that site and maybe scale back on some of the others.
Categorized in: SEO
LIKE AND SHARE THIS ARTICLE:
READ OTHER DIGITAL MARKETING RELATED ARTICLES FROM THE BRICK MARKETING BLOG: