Website Usability is Important to SEO
Written by Nick Stamoulis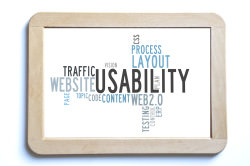 There is a clear link between website usability and digital marketing, particularly with SEO. However, it can be a struggle balancing usability with the desire to get the website noticed in the search engines. Although SEO is the primary traffic source for a substantial amount of website owners, that traffic won't amount to anything if usability and conversion rates are not given the same amount of attention as SEO.
In fact, it is all about adopting the right mindset. Your primary concern should be to put together a website that will please your actual visitors. If your audience members are happy with what they see when they arrive at your website, they are more likely to eventually become a customer. If they aren't happy, they will click away from your site. No amount of SEO can help increase your business if their user experience is poor.
SEO and How it Relates to Your Users
Search engine optimization is something that works well when it is done over the long term. It is fairly typical to really start to see results after putting in consistent effort for a solid year. Sure, you may start to see signs of life even sooner than that, but the results don't really seem to take root until some time has passed.
However, it is important to understand that the main goal of SEO is to increase traffic to your website over time. How they behave once they get to your site is now a matter of usability. If they see that you can meet their needs, your website is filled with useful information, and the website is easy to use, they are more likely to stay on your site and maybe even become potential customers. In other words, SEO can only get you so far.
If you have great SEO and your audience realizes that your website meets their needs, your users will be happy. Search engine optimization can increase your visitors, but it's the website that really does the work, but only if it is designed well!
Technical Elements Important to SEO
Did you know that there are some technical, on-page factors that are important to SEO but that also increase usability? There are also some vital technical elements that also help with both SEO and usability. Here's a look at some of the on-page factors, as well as technical items, that might matter for both usability and SEO:
URL Structure – This not only helps with SEO, but it can also make users happy. A clean URL structure can help make the website easier to navigate.
Footer Design – It's true that a well designed and informative footer can help with SEO. It also increases the usability of your website. A good footer includes navigational elements, contact information, and other crucial pieces of information that customers might wan to know.
Site Speed – If the site is too slow, users will be frustrated and will bounce off the site quickly. Slow site speed can also have a negative impact on search engine rankings.
It's true that website usability is important to SEO. Search engine optimization can draw more visitors to the website. However, if the site is unhelpful and poorly designed, they won't stick around.
Categorized in: SEO
LIKE AND SHARE THIS ARTICLE:
READ OTHER DIGITAL MARKETING RELATED ARTICLES FROM THE BRICK MARKETING BLOG: