What Is a Digital Marketing Strategy?
Written by Nick Stamoulis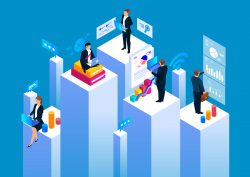 Digital marketing strategy is planned, integrated, and measurable activities to optimize digital presence across the web and mobile channels to grow an organization or business. The long-term goal of a digital marketing strategy is to develop an online presence that will create positive brand awareness, engagement, conversion, advocacy, and loyalty with customers.
Here's a look at how you can create a digital marking strategy:
Understand Your Business
Businesses need to understand their business model and how consumers interact with their products in this step. Companies should identify the digital channels that are most important to their customers, either now or in the future, and focus on having an impactful presence on those channels.
Know Your Audience
Knowing your target audience is key to digital marketing. Understanding the needs and expectations of your target market will help you decide what channels to focus on, what content to produce, and how best to market it. It will also help you determine the type of marketing message to use.
Build Your Strategy
A successful digital strategy includes a variety of strategies, and you need to find the best mix for your business and your goals. For example, a content plan that provides for the purposeful creation of quality content for various channels and engagement with customers through social media channels. A content plan also consists of a calendar for content timing and innovation, making it easier to track performance and make necessary adjustments.
Evaluate Performance
The strategy should include frequent measurement, analysis, and evaluation of digital marketing efforts to determine what is working and where you can make improvements. Google Analytics is a free tool that provides real-time customer data, which you can use to understand customer behavior on your site. Web analytics is a crucial part of any digital marketing strategy as it allows you to track visitors, conversions, and sales.
Implement the Plan
Once your digital marketing strategy is in place, it does not mean that you cannot change it. Any sound system will require changes as the business grows and more is learned about its target market. Companies need to be flexible and willing to try out new things and make changes as they know what works best for their business.
Benefits Of Having a Digital Marketing Strategy
Saves Time
Having a digital marketing strategy made will save businesses time as they will know where they are going and what content needs to be created. It reduces the number of trial and error campaigns that companies run, which can be expensive.
Increases Efficiency
With a digital marketing strategy, businesses will most likely eliminate the need for several different marketing strategies. Having one system makes it easier for companies to ensure that all efforts are consistent and focused on the same goals.
Helps Increase ROI
A well-devised digital strategy can increase the ROI of your business by providing a greater return on investment. By limiting the number of channels being used and focusing on those most important, companies will significantly impact their marketing dollars.
A digital strategy will help a business reach its goals. In the rapidly growing field of digital marketing, companies need to focus on what they can do to stand out from their competitors and get the most out of their marketing budget.
Categorized in: Digital Marketing
LIKE AND SHARE THIS ARTICLE:
READ OTHER DIGITAL MARKETING RELATED ARTICLES FROM THE BRICK MARKETING BLOG: