Don't Let Your Digital Marketing Fall Behind During Economic Difficulties
Written by Nick Stamoulis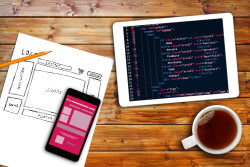 Are you worried about your business during economically difficult times? It's no secret that when the economy is uncertain, you might live in fear concerning whether or not your business and your livelihood will survive. It is important to understand that if you start making decisions based on this fear, you could be setting yourself up for failure. No matter what is going on, you want to try to keep a level head, and then make sound business decisions once you get control of that fear.
At the same time, you don't want to let your digital marketing stay behind. One thing that often happens is that when business owners begin to panic, fearing their business won't survive an economic downturn, the first thing they do is try to cut costs. While this is a worthwhile and necessary business activity, slashing your marketing budget is not one of the things that should be done.
Marketing is the reason why you attract new business. If you aren't getting new business because of the economy, you can't stop marketing. Your business likely won't survive. Keeping your marketing plan going is the best way to make sure that your business will stay afloat during the bad times, and then thrive once again when the economy gets better.
Before you start panicking, you first need to understand that metrics like your website traffic will naturally ebb and flow. On some level, these dips will be normal. During economically difficult times, these dips might be more pronounced or might last longer. However, this doesn't mean that your business is doomed.
You should keep an open mind when you see data that is less than desirable, but you don't need to react with every little change. If you do, you could be doing your business more harm than good. While knowing what is going on with your traffic is a good thing, you should also understand the big picture, and know that on some level, traffic dips are normal.
If the economy is responsible for these dips, then you simply keep marketing and wait for the economy to rebound long enough for your results to improve.
That being said, not every part of your digital marketing program will be absolutely necessary. If you need to cut back, you should still, at the very least, stick to the basics. Pare down on some pieces of your strategy, such as paid advertising like PPC, but keep doing the things like posting content, posting on social media, and interacting with your customers online.
The reason for this is that you don't want to lose any momentum with your customers, your brand, or with the search engines. These things take time to develop, and you don't want to ruin your results. The best thing to do is to stay consistent on at least the basics.
When the economy isn't doing well, you need to be careful how you react as a business owner. Not every situation will warrant a reaction from you, and if you keep marketing, you have a chance to not only rebound, but thrive after the economic downturn is over.
Categorized in: Digital Marketing
LIKE AND SHARE THIS ARTICLE:
READ OTHER DIGITAL MARKETING RELATED ARTICLES FROM THE BRICK MARKETING BLOG: