Traffic Disappearing? It Won't Always Be Consistent
Written by Nick Stamoulis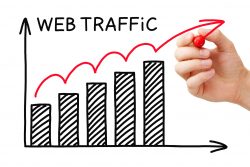 When it comes to digital marketing, your main goal is likely to receive an increase in targeted traffic. In order to do this, you will want to employ different strategies. For example, SEO is a big part of digital marketing, as well as content marketing, social media, and even paid advertising like PPC.
At any given time, traffic sources could fluctuate in their effectiveness, and whether or not they work has to do with so many factors that it is so much better to look at the big picture. The truth is, traffic won't always be consistent so if it dips periodically, there likely is no reason to panic, as long as you are consistent and diligent. Here's more information:
How Long Traffic Has Been Disappearing
One thing to consider before deciding if your disappearing traffic signifies a larger problem is to take into account how long it has been dropping. Has it just dropped over the past month or is it a consistent trend over the course of several months or longer? A one month drop is worth putting on your radar, but there may be no need for action yet. It all depends on the situation and what is going on with your business and industry.
In some cases, however, a sharp decline could indicate something really is going on. You'll want to look at the data to make sure that there is nothing to indicate that there is a cause for concern, such as a penalty given by Google or a technical issue on your website that is causing the traffic dip.
Consider Your Normal Traffic Patterns
The more traffic data you have access to, the better able you'll be to assess if the current traffic dip is cause for concern or not. The truth is, traffic always fluctuates and most of the time, it is nothing to be concerned about. However, you won't know for sure unless you are able to see traffic data that spans back at least a year or more. What you are looking for are pattens such as seasonality, patterns in line with the economy, or any other patterns that seem "normal" for the industry.
What if you have access to this data and you realize that the traffic dip isn't in line with a predictable pattern? Well, it still could be a random blip that has no long term consequences. Once you identify the traffic dip, as long as you ruled out anything big that can be fixed, like a technical issue, you will want to decide if you need to wait it out or if there is something you can do.
No matter what your industry is, traffic going into your website has a tendency to ebb and flow. Traffic dips don't always mean that there is a problem. It is important to take an intelligent approach to dealing with a dip so that you can determine if there is anything you need to do about it, or if you should just wait it out.
Categorized in: Digital Marketing
LIKE AND SHARE THIS ARTICLE:
READ OTHER DIGITAL MARKETING RELATED ARTICLES FROM THE BRICK MARKETING BLOG: