Definition of a Blog
Written by Nick Stamoulis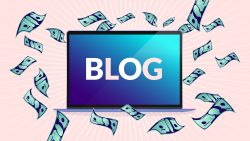 A blog is a website with written content that is added to regularly and in chronological order. In the past a blog was more like a personal journal, but it has since evolved into a web page or website that can be used for personal or business purposes.
What is the benefit of a blog? A blog is a wonderful way to engage regularly with customers and visitors to your website. Allowing visitors to comment on your blog post can help you engage with them. You can answer any questions they may have, thank them for reading your blog, and have a two-way dialogue.
If you have a lifestyle blog, you may not sell services or products, but may have readers who are invested in your life and stories. A lifestyle blog may focus on your entire life or one part of it such as your interest in cooking, reading, or traveling. Personal blogs can be monetized, grow a large audience, and eventually earn money. Engaging with your readers is just as important as if you had a business blog. Online marketing and branding relies heavily on customer engagement.
Besides business and lifestyle blogs, there are other types of blogs including:
Collaborative (group) blogs: Collaborative blogs are written by more than one author. Typically these blogs have a theme such as: technology, advocacy, or politics.
Aggregated blogs: Aggregated blogs are a collection of selected feeds on a specific topic, service, or product. This type of blogs allows readers to concentrate on reader about their topic of interest rather than searching for content and managing subscriptions.
Blogging can help to drive more traffic to your website as you can include links. Don't stuff your blog posts full of links though. Pick and choose your links wisely and when possible, use anchor text that lets the reader know what they are about to click on.
By inserting relevant keywords not only in your anchor text but in the blog posts themselves, you can improve your ranking in search engines. You can use search engine optimization (SEO) tactics while writing your blog posts. Consistent blogging and use of SEO keywords can help you rank higher in search engine results.
Blogging can set you apart as an expert in your industry. No matter how small or large your business is, blogging can be a way to set yourself apart from others. Providing valuable content will enable you to gain trust and establish standing. Blogging also provides a chance for readers to share your blog posts. If a reader finds your blog informative, they may choose to share it on social media, which can draw more visitors to your blog and website.
As the author of the blog, you can also share your new blog posts on social media. Don't be shy when it comes to sharing your work, but also make sure you aren't over sharing. A balance will work for everyone's benefit.
Blog Definition Sources:
Categorized in: Digital Marketing Glossary
LIKE AND SHARE THIS ARTICLE:
READ OTHER DIGITAL MARKETING RELATED ARTICLES FROM THE BRICK MARKETING BLOG: