Definition of Cost Per Acquisition (CPA)
Written by Nick Stamoulis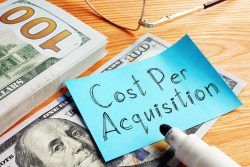 Cost per acquisition (CPA), also known as cost per action, measures an advertiser's per conversion cost from start to finish. This is from the addition to search engine results to creating landing pages that will grab visitor's attention. Cost per acquisition measures how much it costs to covert one visitor to a client. The quality of leads generated depends on your budget. If you have access to a higher budget, you may have more resources to generate better leads.
What qualifies as a lead? A lead is any individual who leaves their contact information, whether basic or detailed, on your website or campaign. Basic contact information will usually include just a name, email address, and possibly a phone number. Unlike cold calls, leads hear back from a business after they have opened the channels of communication by submitted this personal information. A lead is someone who has the potential to become a customer and then a promoter (someone who recommends your business to others). Lead generation is a critical step in your business process. This is the first step in the sales process. This process involves attracting, nurturing, and convincing potential customers to buy your service or product.
What are the benefits to the cost per acquisition pricing model? This is a preferred model because you can decide on your definition of an acquisition before the advertising campaign begins. Then, you only pay when the desired outcome comes to fruition. With the cost per acquisition model, you can evaluate the specific action a customer is taking. There is also limited risk when using the cost per acquisition pricing model and it's easier to use than a cost per thousand or cost per click model. Cost per acquisition makes sure that you are investing in the most cost-friendly channels of marketing. For advertising campaigns, one of the best ways to measure your website's ability to convert is cost per acquisition.
How can you generate as many conversions as possible? When you have a budget you need to stay within, use Google's target CPA bidding. This type of bidding leverages machine learning to analyze your campaign's historical data. With this information, it can recommend a the best average target CPA as well as optimize your eligible bids. By using target CPA bidding, you might find some of your conversions cost more than others. This will be due to the fact that your quality score or the competition in the ad auction can fluctuate. Google does its best to keep your cost per acquisition close to your average target.
What are the disadvantages of cost per acquisition? With the cost per acquisition model, it can take time to optimize channels as you will be creating multiple campaigns. If you are selling high-value products, you may need to have a higher budget to achieve your sales goals.
Generating quality leads with the cost per acquisition model is a good way to get your sales rolling for your business.
Cost Per Acquisition (CPA) Definition Sources:
Categorized in: Digital Marketing Glossary
LIKE AND SHARE THIS ARTICLE:
READ OTHER DIGITAL MARKETING RELATED ARTICLES FROM THE BRICK MARKETING BLOG: