Definition of Ad Copy
Written by Nick Stamoulis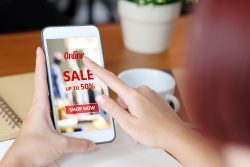 Ad copy is the written material that is found when someone clicks on an advertisement. Ad copy is used to describe the advertisement in further detail.
Imagine that you have a product or service that you want to sell. The best way to get people interested is to compel them with your words, while being simple to understand. Ad copy includes a headline, the body with a couple short, to the point sentences, and a one line conclusion. In order to get people to buy a service or product, you need to be creative. Ad copy should be clear, compelling, and concise without being boring.
The purpose of ad copy is to sell. That's the end goal. You want to influence each visitor to click on your ad and buy what you're offering. To do this, you not only need to be creative, but should understand what your target audience wants and persuade them by telling them how you can get them there. Your first job is to determine who your target audience is. It's difficult, if not impossible, to appeal to a younger audience and an older audience with the same ad copy. They speak two different languages. Once you've narrowed down your audience, you can begin to write your ad copy.
The first part of ad copy your visitors will see is the headline. You want to make the headline meaningful enough to make a good impression. You want them to be curious enough to want know more. You can do this by asking a question, helping them to fix a problem, and using keywords.
Choosing the right keywords to use in your ad copy is important. General (attracting a broader audience) and specific (attracting your target) keywords can both pull in an audience, so using a combination of both is a good idea. But don't stuff your ad copy full of keywords as this will look forced and unnatural. If you must choose, always go with specific keywords as your goal is to pull in your target audience.
Ad copy should always have a promise of benefit and add value to your visitor's life. Whether you are offering a product, service, or information, ad copy is where you should be making this promise. Put yourself in your target audience's shoes. If you were looking for what you are trying to sell, what would grab your attention? When writing ad copy, think about your target demographic and how you can connect to them with the language you use.
Ad copy should always have a call-to-action. A call-to-action can be in the form of visiting a landing page, fill out a form, sign up for a newsletter, or purchase a product or service. Call-to-actions should include strong action verbs such as "join," "subscribe," or "activate."
The goal of ad copy is to increase conversion rates and profits. Effective ad copy will appeal to the visitor's wants and needs, include an emotional trigger, and focus on the benefits.
Ad Copy Definition Sources:
Categorized in: Digital Marketing Glossary
LIKE AND SHARE THIS ARTICLE:
READ OTHER DIGITAL MARKETING RELATED ARTICLES FROM THE BRICK MARKETING BLOG: