Control Your Brand through Branded Search
Written by Nick Stamoulis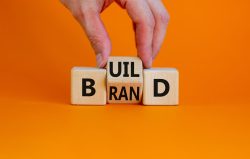 When compiling and executing your SEO strategy, chances are pretty good that you will focus the majority of your efforts on working with keywords that will attract people specifically to your website. However, SEO has another use that you may not realize. It's valuable to help build your brand, especially when it comes to branded search.
Picture this. Someone is interested in buying your products or services and decides to look for information about you online. To find this information, you type in the name of the company in the search engines. These types of searches happen all the time.
What happens if you didn't control your branded search? Well, who knows what they'll see on the front page. You need to control what you can, and to do this, you can control your own branded search by incorporating it into your SEO. Here's a deeper look as to why branded search is important:
Helps Build Your Brand
Branded search not only helps build your brand, but utilizing it can help build your brand as a whole.  The most valuable brands are those that people trust, so embrace SEO and use branded keywords to build your brand. Branded search, though, is about more than just focusing on keywords. It is about controlling as many of the listings as you can that relate to your brand. In this way, you are able to give search engine users a complete picture.
Enables You to Control What You Can
You'll want to control other elements that relate to branded search, not just the information that is on your website. Your goals to control what you can so that it can overshadow information that you can't control, such as a bad review.  Here some of the items you can control that may end up on the first page for branded search:
Social media. Your brand's social media profiles usually show up on the first page along with your website.
Press releases. If you regularly write and submit meaningful and relevant press releases, these could show up on the first page. If you have more than one release, there might even be more than one on the first page of results.
Online profiles. Does your brand have profiles on other, secondary sites? If there are profiles that make sense for your business, such as a page on Yelp for a restaurant, you should set the profiles up yourself so that you can control the information.
Better Usability for Search Engine Users
When someone searches online for your brands, they want to find high quality information about your brand. They don't want to weed through junky search results to find what they need. Make sure your website shows up prominently on the page for branded search, as well as some of the other pages that we mentioned above. In doing so, users will be able to get the information and content related to your brand that they are looking for much faster.
It is so important to pay attention to branded search because it will help you be in almost full control of your brand.If there is a lot of positive information out there, it will overshadow anything negative. In other words, it helped you control the dialog.
Categorized in: SEO
LIKE AND SHARE THIS ARTICLE:
READ OTHER DIGITAL MARKETING RELATED ARTICLES FROM THE BRICK MARKETING BLOG: