Don't Write a College Essay on Your Company's Blog
Written by Nick Stamoulis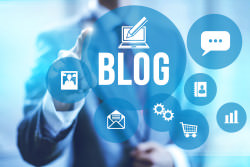 Content on your company's blog needs to be accessible to your audience. In other words, its chief purpose should be to please those who will read it, while also conveying your expertise. There are all kinds of strategies that you can do in order to accomplish this. All you need is to come up with a great strategy that will satisfy those who read it, while also honoring your business's goals.
However, one of the problems is that people often go overboard when trying to convey their expertise. The impulse is to try to establish credibility by making the writing complex and formal. The truth is, this type of writing is a turnoff to your audience. Your blog should have a friendly and accessible style, even if it is packed with great information. Here's more information:
Formal Essays Are Hard to Read
One of the main issues is that formal essays are difficult to read. The writing is stuffy and formulaic and this type of writing doesn't work on a blog. In a typical essay format, the opening paragraph establishes a thesis statement. Following that, each subheading supports the main point. While this type of structure is loosely followed when writing articles for a blog, there are no set rules. Online writing flows much differently so formalized structures tend to turn people off. If you were the type of person who wrote this way in college, you will need to adapt your writing style to make it a little bit more accessible.
Blog Articles Should Be Conversational
One of the things that blog writers need to master is writing in a conversational style while still maintaining a sense of authority. If you are trying to learn how to write this way, it could help if you picture yourself in conversation with your best friend. How would you explain to a good friend how to do something? This is the type of tone that you should adopt when writing on your blog. Contrast that with the formal essays. When you write those, chances are pretty good you're picturing a college professor when you're writing those!
Follow Proper Grammatical Rules
It is so true that formal essays follow a strict set of grammatical rules. However, the same is true of writing online. Just because blog writing is considered to be informal, that doesn't mean that you can ignore the common rules of grammar! Sentences and paragraphs should be composed well. The article should be free of spelling errors, as well. When you do find errors on a blog post, they should be fixed. If you don't know the rules as well as you should, it is a good idea to have your articles proofread by someone who does know the rules.
It is important to remember that writing on a blog has a completely different style than other types of writing. The writing on a blog is more informal, but it should also still convey authority. You don't want to make the mistake of writing a college essay on your blog!
Categorized in: Content Marketing
LIKE AND SHARE THIS ARTICLE:
READ OTHER DIGITAL MARKETING RELATED ARTICLES FROM THE BRICK MARKETING BLOG: