How Much Content is Enough
Written by Nick Stamoulis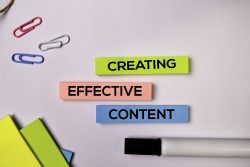 It's a well known fact that content forms the base of a good digital marketing plan. Visitors love to see great content on your site, and this will draw visitors in from all over the internet, including the search engines, from advertising efforts, and from social media.
We do know that not having enough content can be a bad thing. However, it is also possible to have too much content. The question remains – how much content is actually enough?  Here are some ways that you can tell that your content marketing is up to par:
There's a Good Mix of Content
When visitors come to your site, they expect that their needs will be met. It is important to think of the best way to deliver information to your audience. If there is a nice mix of content, such as through articles, videos,  images, podcasts, and infographics, your content is in good shape.
Variety also come in the form of ideas, text length, and structure. Start by offering lists that your readers can skim through when they need information fast. That doesn't mean that you offer short content, as most of your readers will be more engaged when you provide more detailed content.
A good mix of topics within the same broad niche will keep your visitors browsing and not just skim through one piece and leave. Offer educational content, how-to's, product reviews, tutorials, ebooks, and many more to provide variety.
The Topic is Well Covered
When it comes to online content, always choose quality over quantity. Having enough content does not necessarily mean having thousands of blogposts on tens of topics. It means keeping the visitor engaged enough and keeping them coming back for more even if all you have is a few posts.
Avoid populating your pages, especially social media, so much that your readers feel they've had enough of your work. The same way you'd want to keep going back to a restaurant because they served sweet food should be the same way you keep your visitors coming back.
Existing Content Has Good Engagement
What is the rate of engagement of your content? You could have some of the best content on your topic, but you won't know how well it is being received until you look at the numbers. You can tell the rate of engagement by looking at visitors and conversion metrics.
Some important pointers include time spent on a page (note that time spent on your site doesn't indicate engagement), internal traffic, social shares, comments on social media and blog posts, rate of email signups, and traffic from search engines. Use tools such as Google Analytics to understand engagement better. This is the best gauge that you have to determine how well received your content is.
When it comes to creating content for your website, you need to consider the needs of your audience.There is such a thing as too little content, but you also don't want to overdeliver. Learn how to hit the sweet spot and your audience will be happy.
Categorized in: Content Marketing
LIKE AND SHARE THIS ARTICLE:
READ OTHER DIGITAL MARKETING RELATED ARTICLES FROM THE BRICK MARKETING BLOG: