The Buying Cycle Has Evolved- What's SEO Got to Do With It?
Written by Nick Stamoulis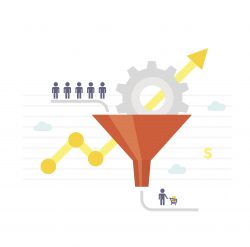 I came across this really interesting post on MPDailyFix.com a few weeks ago about the excuses that SMBs come up with to avoid blogging. The post has a lot of good points, but the one that resonated with me the most was this:
Studies consistently demonstrate that the majority (70% or more) of the modern sales process takes place behind the scenes, meaning consumers and businesses alike are out there searching, surfing, browsing, and listening long before deciding on the products and services they want. (Think of a retail clothing or automobile customer who steadfastly avoids the sales reps until he or she has decided to try on an item or test-drive the car.)
So, by the time the direct-sales process is engaged, those customers have largely made up their minds.
The traditional buying cycle has we've come to understand it over the years is evolving. Potential customers don't have to talk to a member of your sales team from the get-go to learn more about your companies and products and the Internet gives them more access to more information (about you and your competitors) than ever before. Like the MPDailyFix post says, by the time a potential customer decides to get involved with your company chances are they are most of the way through their buying cycle. You might be one of three potential vendors they are considering working with but they've done a lot of the preliminary research/investigation on their own and are just looking for the cherry on top that will seal the deal.
So what does this mean for your business and for your SEO campaign?
It means that SEO and content marketing are inherently tied into the buying cycle. Your company needs to be visible when your potential customers enter research mode and you need to make your brand the best possible solution for their needs right out of the gate. This means you need to have a strong online presence and connect and reconnect with a potential customer time and time again across a variety of channels.
For instance, let's say a marketing manager were to search for "SEO company" and saw the Brick Marketing organic listing. Maybe the click over to the site and maybe they don't. Tomorrow they start looking for information about what kind of qualities a good SEO firm would have and they find this post from the Brick Blog. They remember seeing the company name from their previous search so decide to check out the post. Maybe they decide to follow the company on Twitter or sign up for our newsletter to learn more about SEO. 3 months, 6 months, maybe even 2 years from now this marketing manager finally gets a budget approved for SEO. They've been reading our blog (among others) for many months now. Maybe they even attended one of our local SEO workshops to try and learn SEO for themselves. But the point is that over time they have built up a bit of a rapport with Brick Marketing. I may have never met them face to face but they see my name and the Brick brand pop up here and there over time. By the time they do submit an SEO proposal request they already know a lot about me, Brick Marketing and our approach to SEO.
There's a reason it's called a buying cycle and not a buying line. Choosing to work with an SEO company or any other vendor usually involves a lot of back and forth and there can be a lot of hands that need to get involved. For instance, the marketing manager might do all the research and really want to work with Brick Marketing, but they have to get the VP of Marketing to sign off on hiring us AND get the CFO to approve the budget. They might change their mind last minute, have the budget turned down, get sidetracked by another project and so forth. But no matter where your potential customer is in their buying cycle your brand needs to be present and ready to help however you can. Don't assume they are going to remember you after one interaction—SEO and content marketing help ensure that your brand is there when they are ready for you and has been waiting in the wings the whole time.
Categorized in: SEO
LIKE AND SHARE THIS ARTICLE:
READ OTHER DIGITAL MARKETING RELATED ARTICLES FROM THE BRICK MARKETING BLOG: