Build a Solid Digital Marketing Foundation
Written by Nick Stamoulis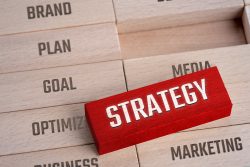 When it comes to digital marketing, it can be tempting to want to do everything at once. You might have visions of a social media boosting campaign that will work well. You could be getting excited about some videos that will make your content marketing stand out. You may even launch a podcast! Well, these ideas are probably great, but it is still wise to be careful. Some ideas are considered extras, and before you do them, you should make sure that you have build a solid marketing foundation. Here are some things you should make sure are solid before you start doing anything else:
Build a Great Website
Does your business website achieve its desired goal? Do you have great calls to action, great design, intuitive design, excellent content, and more? A lot about your digital marketing hinges on your website. If the conversion elements aren't properly in place, for example, your digital ads won't perform as well as they could. Really take the time to think about what your goals are, and make sure that the website properly connects your goals with your audience.
In other words, your website is the online face of your business, and it is essential that it looks professional and polished. Make sure to choose a good web host and use quality design templates, or hire a professional designer to create a website that represents your business well.
Create a Great Content Marketing Strategy
Once you have your website build, you should really consider your content marketing strategy. It's true that content marketing is one of the most effective digital marketing strategies, out there, and it is one of the main components of your foundation. It involves creating and publishing valuable content that attracts and engages your target audience.
The thing is, it takes a while to really nurture your content marketing, and you are better of spending a lot of time in the beginning states of executing your digital marketing plan. You should make sure this is in place before you start pursuing other, more complex digital marketing activities.
Develop a Great Social Media Plan
The other foundational element of digital marketing is your social media. Social media is a great way to connect with potential and current customers. It is also a great platform for promoting your business. Make sure to create profiles on the major social media sites and actively post content that is interesting and useful to your target audience.
Every foundational element works together, and social media is no exception to this rule. You need to put a great posting strategy in place before you can build on that. For example, it really doesn't make sense to boost or advertise on any of the social media platforms until you've built up your presence.
It's true that there are many elements of digital marketing to consider. However, when you develop your strategy, you need to make sure that you pay attention to your foundational elements and do those first. Only after those are developed does it make sense to add other elements.
Categorized in: Digital Marketing
LIKE AND SHARE THIS ARTICLE:
READ OTHER DIGITAL MARKETING RELATED ARTICLES FROM THE BRICK MARKETING BLOG: