Your Website Needs to Function to be Good for Digital Marketing
Written by Nick Stamoulis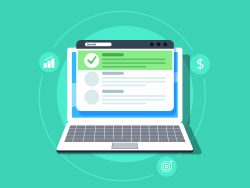 No matter what digital marketing strategies you use for your business, there's no denying that the website is the backbone of your operations. However, a poorly built website will do more harm than good. Your site needs to be well-built in order to provide a good foundation for your digital marketing efforts.
The website serves several purposes, such as giving people information about your business, generating leads if you are looking for clients or selling a service, selling products if you are selling goods, and for branding. The site will be able to fulfill multiple rolls.
What happens if your website isn't built well? We all know what a site like that looks like, and it is frustrating. Pages load slowly. Links might be broken. People will quickly become frustrated by your company and won't want to do business with you. This can be avoided by making sure that your site is solidly built, and this not only includes the technical aspects of your site, but also its branding.
Your Website Reflects Your Brand
Your website should reflect your brand's identity because this is how consumers decide whether you will fit their needs. Everything from the colors that are chosen, the graphics, fonts, and brand messaging matters when building your brand, and your site should reflect your brand in its marketing.
People make emotional choices based on how they perceive a brand will make them look or feel, not facts or features. You can connect with visitors by showing you value the same things they value. If you show people these values on your website, they might be endeared to do business with you.
Makes a Good First Impression
When your site is well built and optimally branded, this gives customers a nice first impression of your business. In fact, in most cases, a company's website is a person's first impression of a brand. It only takes most individuals a few seconds to form an opinion of your brand. If they like what they see, they will stick around and hopefully convert. If not, there is a good chance the visitor will not return. It's much easier to count on repeat visitors for sales that get new ones. If a person has a poor impression of your website, they will simply hit the back button and go to a competitor's site.
Provides a Good User Experience
What happens if your website is well built? People will find the information they need quickly. They'll be able to click through to various places on your website with ease. They'll be able to find your contact information quickly. When your visitors are happy, it means that you've provided them with a good user experience. This is exactly what you want – to make sure that your site is technically sound and that there is good usability. When the usability of a website is good, it helps your digital marketing so much more.
As you can see, it is important to have a well-built website that reflects your brand in the best way possible. This will help enhance your digital marketing.
Categorized in: Digital Marketing
LIKE AND SHARE THIS ARTICLE:
READ OTHER DIGITAL MARKETING RELATED ARTICLES FROM THE BRICK MARKETING BLOG: