Be Careful Your Idealism Doesn't Get in the Way of Business
Written by Nick Stamoulis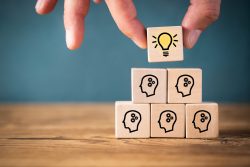 You have an idea and you work overtime to flesh it out into a workable business. Things seem to be going smoothly, but you eventually realize you need help with your digital marketing. So, you reach out to different agencies to see if anyone an help, and you might even consider hiring a staff of your own. Either way, you know that you need more customers in order for your business to succeed.
Think about your business development process? Did your idealism carry the process through, or did you do the right amount of research and preparation needed for your business to succeed? No amount of digital marketing can help bring in customers if the idealism got in the way of proper business development.
The Problem with Idealism in Business
The ultimate dream for a business owner is to not only achieve success, but to also be passionate about what the business is doing. The only problem is, it is all too easy to let this idealism get in the way of success. Sure, it's great to strive for this ultimate scenario when developing your business. However, it is important to not let this feeling outweigh the actual business development process. "Liking" the idea won't be enough to bring you success. It's about more than just hard work, there actually needs to be a market that is interested in your product or service. Demand generation is incredibly difficult, if not impossible, so you need to make sure there is a market for your idea before you proceed.
Digital Marketing Won't Fix Business Issues
Let's say you have been in business for some time, and you are still excited about your idea. Yet, your sales aren't as high as you thought. Your first inclination may be to throw money at marketing. Surely, doing so will help you get the customers that you want. This may be true up to a point, but it won't save your business if you glossed over the development phase because you could "feel in your gut" that your idea was a good one. If this is the situation you are in, you need to ask yourself some hard questioned. Did you take the time you needed in the beginning to flesh out your "great idea" or did you believe that hard work would help your business succeed, no matter what?
This is where idealism can absolutely get you into trouble. It is better to prolong starting your business in favor of doing the initial phase justice. If you don't skip the beginning research phase, chances are pretty good you will uncover the real truth. Does your business have real potential or not? If it doesn't, you will know before you expend all those resources trying to make a business succeed that simply doesn't have the market to back it up. In this case, digital marketing won't help. Be careful that your idealism doesn't get you into trouble.
Categorized in: Digital Marketing
LIKE AND SHARE THIS ARTICLE:
READ OTHER DIGITAL MARKETING RELATED ARTICLES FROM THE BRICK MARKETING BLOG: