How to Improve the Visibility of Blog Posts
Written by Nick Stamoulis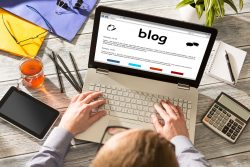 If you want to be found online, you need to be creating content. It's really that simple. Well, the concept is simple. Actually creating the content and publishing it on a regular basis can be quite tough! But it's all the more reason to do it. It will give you an edge over the competition that didn't put in the time or effort. One of the best outlets to share content is on a company blog that is hosted on the site. Of course, content is only valuable to your online marketing efforts if people are actually seeing it. It takes a little extra effort to improve the visibility of blog posts, but it is well worth it.
Here are 4 ways to improve the visibility of your blog posts:
Incorporate keywords
A blog post should be treated the same as any other page on your website. It should be optimized by including keywords within the meta information and body content. Of course, this should be done as naturally as possible so that it doesn't interfere with the "flow" of the blog post. If you plug a keyword in too many times it ruins the reader's experience and can get you into trouble with the search engines. As long as the title and URL are optimized to include the keyword, it's likely that the body content itself will include it naturally as you write.
Utilize an SEO plug in
The easiest way to blog is with a user friendly CMS like WordPress that easily allows you to add a new blog post and make edits. An SEO plug in makes it easy to add the SEO elements to the post like the title, description, and keywords. Our favorite is the Yoast SEO plug in for WordPress. It also grades your post to tell you whether the optimization is on track.
Write a title that matches how people search
Once you think of a topic, take advantage of the auto fill feature of the Google search box and start typing some "how to" type ideas to see what is suggested. If it's suggested, it means that people are searching for that phrase, so it's smart to write an exact match title and then answer the question in the post.
Promote via social media
In order for this to work, you will need to have an active social media presence and followers that are interested in your business and brand. It can take time to build up a loyal following, but the key to doing so is to share content that they are interested in. Whenever a blog post goes live it should be submitted to social bookmarking sites that deliver traffic to your site (don't bother with the low quality ones) and within social media outlets like Facebook, Twitter, LinkedIn, and Google+. Sharing a post in Google+ is important because it may help to get the post indexed more quickly. Join relevant groups in LinkedIn and share the content with groups.
Categorized in: Content Marketing
LIKE AND SHARE THIS ARTICLE:
READ OTHER DIGITAL MARKETING RELATED ARTICLES FROM THE BRICK MARKETING BLOG: