5 Ways to Get Your Content Noticed
Written by Nick Stamoulis
Once you hit "publish" on a piece of content, don't think that your work is done. Think of all of the new pages of web content published each day. That's a lot to compete with! If you want to ensure that the right people see your content it's necessary to not only share it in the proper channels but also take steps to increase its visibility within those channels.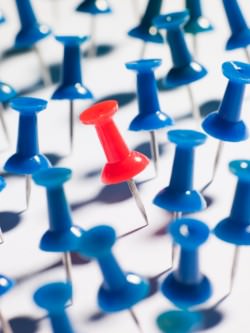 Here are 5 ways to get your content noticed:
Incorporate an image
There's a reason why Facebook has increased the size of images in the News Feed and why Instagram's user base continues to grow. People enjoy looking at images. It's what catches their eye. Every piece of written content that you publish should be accompanied by a relevant, engaging image. It's worthwhile to invest in a subscription to a stock image service to ensure that you always have a great image and don't have to worry about copyrights.
Write an engaging headline
In addition to the image, the first thing someone will notice is the headline (title) of the content. It needs to convince someone that the article is worth reading and encourage him or her to click through. If the title is boring, they're more likely to skip over it. Be creative with your headlines, but also keep your keywords in mind and incorporate them as you see fit.
Optimize the content
Going off of the last point; SEO is a necessary component of a content marketing strategy. Short-term promotion will get your content noticed quickly, but you still want people to find your content over the long term via organic search. That's why it's necessary to optimize content utilizing relevant keywords and keyword phrases. In addition to incorporating keywords into the headline and title, they should also be included in the body copy and Meta information naturally.
Hashtags
Hashtags (#) are a way to designate a particular keyword or topic within certain social channels so that your content is easy to find when someone is searching for that information. Utilize popular hashtags that are relevant to the content when you post it in social media. You can also create your own unique hashtag in order to create a community.
Invest in advertising
Every piece of content that you produce may not warrant a portion of your advertising budget, but some of your best work may be worth investing in. Putting money behind your content is a great way to enhance its visibility online. For example, the organic reach of Facebook posts continues to dwindle and it looks like Twitter is heading in that direction as well. Even a small amount of money will ensure that a portion of your followers will see the content which will increase the chances that it gets clicked on, linked to, and shared. In depth content including white papers, eBooks, etc. can be promoted via search engine pay per click advertising to get it in front of people searching for the information that it provides.
Categorized in: Content Marketing
LIKE AND SHARE THIS ARTICLE:
READ OTHER DIGITAL MARKETING RELATED ARTICLES FROM THE BRICK MARKETING BLOG: