Understand the Limitations of Your Proprietary CMS for SEO
Written by Nick Stamoulis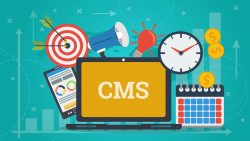 When it comes to digital marketing and search engine optimization, the CMS that you have chosen can be a deciding factor as to what you can accomplish online. There are many options when it comes to selecting a content management system, and most that we have seen get the job done pretty well.
There are two basic options that can be chosen – those that are pretty standardized, such WordPress, Magento, Joomla, and others, and also those that have been uniquely developed for a particular business. We see this from time to time, especially with eCommerce companies.
Does the CMS matter when it comes to creating a digital marketing and SEO strategy? The answer to that question is, it all depends. Here are some insights:
We Need to Get to Know the Capabilities of Each CMS
Our job as a digital marketing agency is to make sure that we get to know the proprietary system before we recommend any technical changes as part of our strategy. When it comes to digital marketing, especially with SEO, there are often some things that need to be taken care of in the backend. Before we make any of these recommendations, it is very helpful to us if we know if our suggestions are even possible. That way, we can assess if the changes even make sense. Here's a look at some of the things we might need to look at:
Title Tags/ Meta Descriptions – We need to know if the CMS allows us to easily change and update the title tags and meta descriptions for each page. In popular CMS's like WordPress, this is fairly straightforward, especially when using certain plugins. Is it straightforward in your proprietary CMS?
URL's- Another important element that we would need to be able to change are URL's. Some CMS's have a default URL enabled for each page of content, and this URL isn't usually optimized for effective online marketing. We usually manually change it. Before we offer suggested URL changes, we need to know if making these changes is even possible.
Redirects – Have you ever stopped to think about what happens to pages after they are deleted? These pages can confuse the search engines, and we have found that SEO results are enhanced when these deleted page URL's are redirected to an existing page on the website. This increases usability and also makes the search engines happy. We need to be able to do this easily, and not every CMS, especially proprietary ones, make this possible.
Blogs – Does your CMS allow for an easy setup of a blog? If not, this is definitely something that we need to know before we recommend this. It doesn't actually have to be a "blog" in the traditional sense, but we do need to be able to easily and consistently add new content.
As you can see, it is perfectly okay to use a proprietary CMS. However, in order to maximize SEO results, we need to be able to easily make changes such as the ones mentioned above.
Categorized in: SEO
LIKE AND SHARE THIS ARTICLE:
READ OTHER DIGITAL MARKETING RELATED ARTICLES FROM THE BRICK MARKETING BLOG: