Trust the Established SEO Process
Written by Nick Stamoulis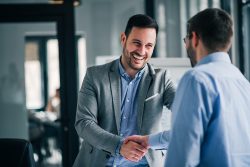 It's true that the SEO industry has changed over the years, and these changes are largely dictated by Google and the various algorithms updates that have occurred over the years. What has worked in past years doesn't necessarily work today. The only thing that remains consistent is that what hat SEO firms, such as Brick Marketing, are diligent about following Google's Webmaster Guidelines and maintain strategies that are in line with Google.
In other words, it is part of our job to make sure we are always current with what Google considers to be the best practices when it comes to SEO. While we always love it when clients come to us with questions and concerns, at the end of the day we know exactly what needs to be done in order to maximize SEO results in an ethical and white hat way. Clients need to trust the established system that we know works well and not try to dictate the process.
Google Has Changed Its Best Practices Over the Years
Google's algorithm has changed quite a bit since the early days. Achieving success in the search engines is something that requires a lot of hard work and patience. The tasks that need to be done on a regular schedule may not feel glamorous, but we know that they work. Not only that, but we are always diligent about making sure that our information about Google remains current and we always adapt our practices accordingly if the need arises. The goal is to make sure that you get the results that you want without violating Google's policies.
Feel Free to Ask Us Questions!
Often, we find that sometimes clients will come to us with concerns that may reflect practices that worked well several years ago but that no longer work or worse, are considered to be black hat practices. Coming to us with questions about the changes and differences is one thing – we are more than happy to answer questions and educate you about the process and why things are done the way they are done. In fact, we love teaching others about SEO! We just ask that clients trust us. We have been doing this for a long time and the excellent results that we've had for our clients speak for themselves.
There Are No Quick Fixes With SEO
Best practices concerning SEO aren't flashy. Most of the time, social media posts and content created with SEO in mind are very simple and won't result in anything "going viral". What we do know is that over time, our combined efforts between social media, link building, and content creation will produce results. These results won't happen overnight and it can take a while to come to fruition. If we aren't doing something in a way that you think we should, there is likely a good reason for it. We know what works and what doesn't. We also know the practices that violate Google's guidelines.
Our results speak for themselves and there's a reason why clients hire us. We are a white hat SEO firm and we've been achieving excellent results for our clients for a long time. We just ask that clients trust our expertise and don't try to dictate the process.
Categorized in: SEO
LIKE AND SHARE THIS ARTICLE:
READ OTHER DIGITAL MARKETING RELATED ARTICLES FROM THE BRICK MARKETING BLOG: