Take Advantage of Seasonal SEO
Written by Nick Stamoulis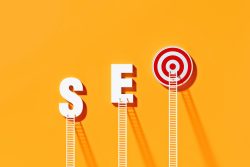 It's true that SEO is something that takes a while to build. In fact, to get to where you want to be in the search engines, it could take years of consistent effort. This makes it difficult for many businesses to stick with an SEO plan, because the immediate pay off isn't there. However, it is well worth the effort to do so because it will help you build longevity in your traffic sources. Not only that, but you will also be well poised to take advantage of seasonal traffic.
Define What Seasonal Means for Your Business
Every business has their own, unique definition of what seasonality means. For many B2C business, for example, you might experience a surge of traffic during the holiday season, so some of your content should cater to that. It might not be as straightforward for B2B companies, but chances are pretty good that you do have a seasonal flow to your business. Seasonality could simply mean that you have a busy season for your products or services, where some months out of the year are busier than others. Either way, defining what seasonality means is a good start.
Work Seasonality Into Your Content Strategy
Next, you should work seasonality into you content marketing. It's true that most of your content really should be evergreen, meaning that it will always be relevant for your audience. This is likely where the majority of your traffic from the search engines will come from. However, you should also work some seasonal content into the mix. That way, when a certain time of year hits, you will be ready to take advantage of whatever traffic you can get from it. When a seasonal moment hits, you want your content to have aged well in the search engines in order to be there when those seasonal moments strike.
Content Needs to Be Relevant
However, keep in mind that you shouldn't embrace seasonality for the sake of it. Your audience needs to find the content to be enjoyable, useful, and relevant. If it isn't relevant, adopting a seasonal approach could do more harm than good because the content won't have value to your audience. Seasonality is only a useful item to embrace if it works well with your business, and if that is the case, then your audience will reward you by visiting your website and consuming the content. Also, keep in mind that it does take a while for relevant content to age well enough to show prominently in the search engines when it is time for seasonal search.
Once your seasonal SEO has aged well enough, you will be there to take advantage of any seasonal trends. For example, if people tend to need your product or service at a certain time of year, you need to be there when users do search. This is one of the reasons why it is so important to be consistent with your SEO strategy. You need to show prominently in search when people do seek you out.
Categorized in: SEO
LIKE AND SHARE THIS ARTICLE:
READ OTHER DIGITAL MARKETING RELATED ARTICLES FROM THE BRICK MARKETING BLOG: