What Does B2B SEO Success Look Like?
Written by Nick Stamoulis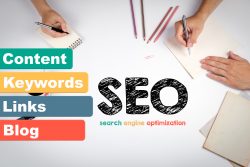 What frustrates many clients about B2B SEO is the long term nature of the strategy. It's just not realistic to think that a brand new SEO campaign is going to yield quick results, even though that's what clients obviously want. There are many outside factors that control SEO success, which is why it's not instantaneous. It takes time for the search spiders to find and index content, the search algorithms are continually changing, trust needs to be achieved, and there is no way to control what the competition is doing or has already done to get ahead of you. While it can be difficult to measure SEO success, especially at the beginning of a campaign, there are certain items to keep an eye on that means that the campaign is working.
A successful B2B SEO campaign results in:
Overall visitor growth
B2B SEO clients need to get out of the mindset of thinking that all that matters is rank. Rankings fluctuate. A better metric is the number of visitors coming to the site through organic search. As an SEO campaign moves along this number should steadily improve month over month. There may be dips in certain months, as every business has a seasonality, but overall that number should trend upward.
More conversions
In addition to getting more visitors to the site through organic search, SEO also works to boost the number of site conversions. If keyword research was conducted properly, the keywords that are bringing visitors to the site should be relevant to the people that are looking for the products or services that you provide. More targeted traffic to the site correlates with an increase in conversions, whether it means that a visitor fills out a lead form, downloads a white paper, or signs up for a free product trial.
Blog visitor growth
Content marketing is no longer separate from SEO, it's an essential part of a B2B SEO campaign. A B2B SEO campaign without any content isn't very valuable. A business blog is necessary and it should be updated on a regular basis. At least once a week is preferred. Blog content should be high quality and include targeted keywords for SEO purposes. Great content is what achieves natural links back to your site which help to grow a link portfolio but should also be delivering targeted traffic to the site. Over time blog posts can begin to gain traction for long tail keyword searches in the search engines.
Increased visits from LinkedIn
Like content marketing, social media is a huge component of a B2B SEO campaign. Ideally, you'd like to see visitor growth from all of the social media sites but LinkedIn is really where it's at from a B2B perspective. A great way to gain visibility and traffic to your site is to join relevant LinkedIn groups and share all of your blog content, as long as it is relevant to the needs of that group. It helps to establish your authority in a specific niche and delivers traffic to your blog.
Categorized in: SEO
LIKE AND SHARE THIS ARTICLE:
READ OTHER DIGITAL MARKETING RELATED ARTICLES FROM THE BRICK MARKETING BLOG: