Features of a B2B Blog That Improve SEO
Written by Nick Stamoulis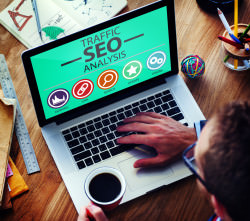 When a prospective B2B SEO client gets in touch and is curious about the SEO process that we'll take one of our first questions is, "Do you have a blog?" Content writing has become an intrinsic component of SEO today, specifically blog writing. The search engines rank web pages and each blog post is an additional web page that can get indexed. It's an additional opportunity to target your priority keywords and an opportunity to target long tail variations of keywords.
In addition to providing content for the search engines to index and rank blog posts also help to promote your knowledge of your industry. They are also a key component of a social media strategy, proving content that can be shared and promoted via all social media accounts. Of course, not all B2B blogs are created equal.
Here are the features of a B2B blog that will have the biggest SEO impact:
Professional look
It's true that SEO is much more about the written content on the page than about how the page looks, but think about your target audience. What will they think of your business if the blog is set up on a free template and isn't customized to your brand at all? Even if someone lands on the blog post, they might not even read the content if the layout is a disaster and they certainly won't share the post in social media. Spend the money to have your blog professionally designed and integrated into the website.
Updated regularly
The SEO success of a business blog correlates with how many posts are published. Of course, quality of the post is always the top priority. If you don't have the bandwidth to publish a quality post every day, what about every other day or once a week? That's much more beneficial than only posting every other week or only once a month.
Social integration
Every blog post that you publish should be shared within all of your social media accounts. That's a given. But it's also important to encourage others to share you blog content in social media as well. You never know how someone will first land on your blog. Maybe they don't already follow you in social media and can't easily "re-tweet" or "share". So, be sure to include social sharing buttons on all posts to make it easy for them to do so.
Content caters to all audiences
The B2B audience is typically different than B2C because the sales cycle/decision process is much longer. Blog visitors can be at different stages of the buying cycle and have varying levels of knowledge about your industry, company, etc. Be sure to maintain a balance in the blog to keep "newbies" on the page without turning away a prospect that is much farther along and may already have the introductory knowledge.
Includes internal links
Getting someone to read a blog post is great, but ideally you'd like them to spend additional time on the website learning about your business and maybe even filling out a lead form or signing up for a newsletter or downloading a white paper. Within the blog post, link to a static page of your site that is related to the content.
Categorized in: SEO
LIKE AND SHARE THIS ARTICLE:
READ OTHER DIGITAL MARKETING RELATED ARTICLES FROM THE BRICK MARKETING BLOG: