How to Start SEO for Your New Website
Written by Nick Stamoulis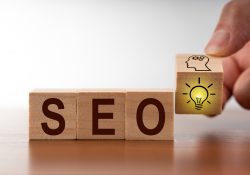 If you're a start up and you've just launched a business website, it's smart of you to already be thinking about SEO. After all, SEO is a slow moving process and the earlier you get started at it, the better off your site will be. However, we don't recommend that new website owners hire an SEO firm right out of the gate. "Why would an SEO firm not recommend hiring an SEO firm?" you might be wondering. Well, the simple answer is that one of the most important factors that determine SEO success is the search engine "trust factor" which is partially attributed to the length of time that the site has been active. The search engines don't want to rank potential fly by night websites and favor the sites that are established. It doesn't make sense for an SEO firm to step in to start an SEO campaign at this point since there likely won't be a measurable improvement in ranking or traffic in the short term. But that doesn't mean that a website owner shouldn't do any SEO at all.
Here are 4 recommendations for new website owners when starting SEO:
Get educated
The first step is to gain some knowledge about SEO and what the search engines approve of and don't approve of. The SEO industry is always changing so it's important to stay current. If you read a blog post that was published even a year ago on SEO, it's likely that parts of it are outdated. There is plenty of current information out there that is free. Start with the resources that Google has, like the Webmaster Guidelines. This will provide you with a basic understanding of what SEO practices are acceptable. Not only will this information be useful as you implement some SEO strategies on your own but will help you down the road when it's time to select an SEO firm.
Tweak the site to follow best practices
Once you've learned the basics, you can make some minor site changes that will make a difference. Start with the title tags of your pages. Often a web developer will leave these all the same, just the brand name, so that they can be edited later but some website owners don't know enough to do this. This means that all interior pages have the title "Company X". The title tags and headlines on the page should be changed to reflect the content of those pages with keywords that people might be using to search for what's on the page.
Implement a blog
One way to attract the attention of the search engine spiders on an ongoing basis is to keep the website "fresh" by continually adding new content in the form of blog posts. Utilize the blog to share your expertise within your niche. These blog posts will also help with your social media strategy since it means that you will always have something to share with your followers.
Claim all local business profiles
Local business profiles include a link back to your site that can generate traffic and allow you to dominate the search results for your branded search terms. The search engine local profiles appear prominently for local search, above organic listings, so it's important to claim the profile and make sure that all of the information listed is correct.
Categorized in: SEO
LIKE AND SHARE THIS ARTICLE:
READ OTHER DIGITAL MARKETING RELATED ARTICLES FROM THE BRICK MARKETING BLOG: