SEO Writing Requires an Additional Skill Set
Written by Nick Stamoulis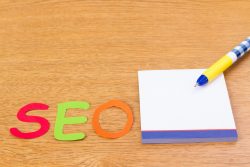 Not everybody has the skills required to be a good writer. You need to be able to understand what people want to read and convey it in a proper manner. Of course there are different kinds of writing. Formal writing requires citations and research while less formal writing can be written just as if you were speaking to someone. Business writing can include both of these types of writing styles, and of course business writers need to understand when each is appropriate. While writing can be difficult enough as is, writing for the web requires additional thought and skills. When writing for the web you are not only trying to attract target audience members with your content, but you also want to attract the attention of the search engine spiders that will crawl and index the content so that it can appear in the search engine results page for related search terms. The key to proper SEO writing is to keep it as natural as possible. The target audience members are the top priority. Write content that will appeal to them first, and to the search engine spiders second.
Here are some SEO writing tips:
Utilize the keyword list
SEO writing is all about keywords. When you start writing content for the web it's important to have an idea of the keyword or keywords that you'd like to target on the page. Take a look at all of the keywords that you are targeting on your website. To keep it natural, vary the keywords with each piece of content. If you are always going after the same keywords it can look spammy. Write the piece with the keywords in mind and it's likely that you will include them naturally. Once it is written, re-read it to keep an eye on the SEO this time. Are the keywords in there? If it's only in there once, look for another place to add it. But don't force it! If you can't optimize it so that it looks natural, just leave it as is. It's obvious when keywords are stuffed on the page and it's a turn off to both target audience members and the search engine spiders.
Write for search behavior
How are people searching for the type of content that you have to offer? You can get a good idea by utilizing the Google search box which auto fills with popular search terms. One of the most important components of SEO writing is the title. What types of "How To's" are people searching for that are related to your industry? "How To" titled posts that match search queries will gain traction in the search engines and help to deliver traffic to the content?
Install an SEO plug in for the blog
One of the primary outlets for SEO writing is the company blog. It helps to keep the website fresh and gets the search spiders to return to the website to crawl and index additional content. An SEO plug in makes it easy to optimize each blog post by inserting the title, description, and keywords that should appear as code for the search spiders to see.
Categorized in: SEO
LIKE AND SHARE THIS ARTICLE:
READ OTHER DIGITAL MARKETING RELATED ARTICLES FROM THE BRICK MARKETING BLOG: