Don't Let Your SEO Process Define You
Written by Nick Stamoulis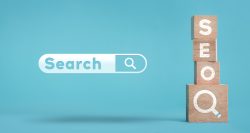 It's true that SEO is a valuable part of any digital marketing strategy. It's a long term strategy and one that is effective at eventually bringing in a steady stream of targeted, organic traffic. Since success through SEO is something that needs to be earned over the long term, it can be tough to stay focused on the endgame.
Another difficulty is that there is a danger in pouring all of your efforts into the process itself. This can also cause businesses to feel a little lost and cause the to lose their marketing identity. The ideal situation, then, is one where the digital marketing strategy adopts a balanced approach – one that includes SEO but isn't completely defined by that.
Here's more information about how you can execute an effective SEO program while still maintaining a balanced approach when it comes to digital marketing:
Know That SEO Isn't The Only Strategy
There's so much more to digital marketing than search engine optimization. Other digital marketing strategies include social media, content marketing, pay per click advertising, and so much more. Businesses that focus on any one of these almost exclusively do the businesses a disservice. As the phrase goes, you wouldn't want to put all your eggs in one basket! If one of the strategies were to be taken away for any reason, your business would take a hit. A great way to minimize this is to incorporate multiple strategies. SEO is just one small piece of this.
Create Content for Your Audience Not Search Engines
When people execute an SEO plan, they make the mistake of thinking that they need to write the content for the search engines. This is the wrong approach. What search engines like to see is that your content meets the needs of your audience. Therefore, it stands to reason that you will better equip your business for success if you create the content with your audience in mind.
Once you do that, the search engines will respond favorably by awarding you better search engine rankings. When a user makes a query, they want to make sure that the results returned will be valuable to them. You give your content its best chance when you stay true to what your audience desires.
Make Sure the Digital Marketing Plan is Customized
Not every business is the same, and that means that not every digital marketing plan will be the same. When you focus exclusively on SEO, you miss out on the other possibilities out there. These options could mean the difference between letting your business thrive and having difficulty finding new customers. This means that every business should take the time to develop a customized digital marketing plan that will help them achieve their goals. When you do that, you not only set your business up for success, but you also give it a unique personality.
When it comes to SEO, it is important to not focus on it exclusively. Your best bet to allow your business to thrive is to come up with a unique digital marketing strategy, customized for you.
Categorized in: Digital Marketing, SEO
LIKE AND SHARE THIS ARTICLE:
READ OTHER DIGITAL MARKETING RELATED ARTICLES FROM THE BRICK MARKETING BLOG: