When an SEO Firm Shouldn't Take on a Client
Written by Nick Stamoulis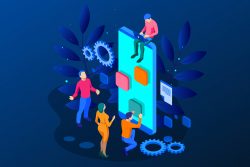 The relationship between an SEO firm and an SEO client should be viewed as a partnership. After all, the two parties will be working together for (hopefully!) a long time. It's important that there be a level of trust and comfort there between the two. An SEO partnership is different than working with other vendors because the communication needs to be consistent. An SEO client can't hire a firm and then disappear. The client needs to provide ongoing feedback and insights into what's presently going on within the business. What it comes down to is that in order for an SEO firm to feel confident taking on an SEO client, it needs to be the right fit. There are certain criteria that must be met in order for an SEO company to feel as if they can actually get results for the client.
An SEO company should stay away from a potential client with the following issues:
They don't have a website
Search engine optimization is the process of making changes to a website and building inbound links in order to establish search engine trust and improve traffic. It's amazing the number of leads that come in from prospects that don't yet have a website. If you want to get some SEO input before the site is launched, it's a better idea to hire an SEO consultant, rather than a full service firm. If you don't yet have a site you can't take advantage of all that a full service firm has to offer. The web design and development process typically takes longer than expected. You don't want to hire a firm and then not have any work for them to do because the site isn't yet up and running.
The website just launched
Brand new websites are typically avoided by full service SEO firms. One of the most significant ranking factors for SEO is the trust of the website which is partially conveyed by the domain age of the website. A brand new website is going to take much longer to see results than a site that has existed for years, but just hasn't been properly optimized. For a new website, it's recommended that the webmaster learn a little bit about SEO on their own to start by working with a consultant or attending an SEO workshop. Once the site has gained some traction, there will be a greater benefit to working with a full service firm.
They don't do any other marketing
SEO is extremely important, but it should never be the only way that a business markets themselves or their website. SEO works best as part of a well-rounded integrated strategy. Relying too heavily on SEO for results is when the client often goes into "panic" mode and has unrealistic expectations. SEO is a long term strategy. If you are looking for immediate results it's advisable to look into alternate marketing methods like PPC or promotional marketing in addition to SEO.
They aren't organized internally
The only way for a business to have a successful relationship with their SEO firm is if they have everything in order on their own end. An SEO firm needs a point person to work with and needs to know what's going on within the company. If the client keeps the SEO firm in the dark, doesn't respond to their inquiries, or passes them around from person to person it's difficult to establish any momentum in the campaign.
Categorized in: SEO
LIKE AND SHARE THIS ARTICLE:
READ OTHER DIGITAL MARKETING RELATED ARTICLES FROM THE BRICK MARKETING BLOG: