What Are the Benefits of SEO?
Written by Nick Stamoulis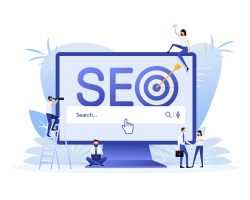 Digital Marketing is an important part of any business marketing strategy, and SEO is certainly part of this.  SEO involves various techniques that make it possible for your website to perform better in organic search results, but aside from that, there are other important benefits. Here are some of the reasons why you should have a solid SEO strategy has part of your digital marketing:
Increase High-Quality Traffic
An effective SEO strategy will help deliver your web pages to several people actively looking for information related to what you have to offer. To attract quality traffic, keyword optimization is crucial. Use search terms relevant to your offerings which are also in demand. As the customer is already looking for the information you are providing, you can easily convert some of these visitors into paying customers. To increase the quality of your traffic, research the keywords most relevant to your business and use them as the basis for all your meta tags.
Target Your Marketing Funnel
SEO is quite effective in targeting all potential customers who are looking for information related to your offerings. Ultimately, most people will never become customers because they weren't considering or ready to make a purchase. Some may be looking for more information or ready to buy right now but just haven't found you yet. A top-of-the-funnel or middle-of-the-funnel blog post builds brand loyalty and awareness and is powerful for SEO. Some people will get to your site via these pieces of content, which will send them down your conversion funnel and, at some point, convert.
Improve User Experience
Search engine optimization will make your site easy to navigate. Your content will be well organized and more easily accessible. The design and layout of your content pages should be attractive so that visitors have a positive experience when they arrive. Google checks bounce rates, the time a visitor spends on your site, and the speed at which pages load. If your site is easy to use and loads quickly, the search engine may rank you more highly than your competition. Avoid pop-ups, auto-play videos, and flashing images, as these things can turn visitors away and make you look unprofessional. A way to increase your site's usability is to include a search box so visitors can easily find what they are looking for.
Part of Your Long Term Digital Marketing
Search engine optimization is a long-term strategy that should continue indefinitely. You will likely notice an impact within a few months of implementing SEO strategies. However, as time goes on, you will see more results and a more significant impact on your business. Long-term SEO strategies beyond the initial implementation period can be particularly effective for increasing conversion rates. Your marketing team should maintain an ongoing commitment so you don't fall behind the competition.
It's true that SEO is an important part of your digital marketing, and it can be a powerful tool that helps increase visibility and sales in any industry.
Categorized in: SEO
LIKE AND SHARE THIS ARTICLE:
READ OTHER DIGITAL MARKETING RELATED ARTICLES FROM THE BRICK MARKETING BLOG: