Are People Still Searching For Keywords?
Written by Nick Stamoulis
Month over month organic traffic is going to ebb and flow, especially if your business is heavily influenced by external factors such as seasonality (no one searches for "Christmas tree farm" in June, for instance). Like so many other things in SEO, search volume is completely out of your control. You can't force people to research your industry/product/company, you can only set yourself and your website up to be there when they need you. But what happens when people aren't searching for your industry/product/company? Does that mean you SEO is failing? Well if you are targeting the wrong keywords, than yes!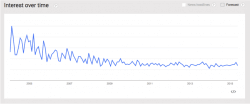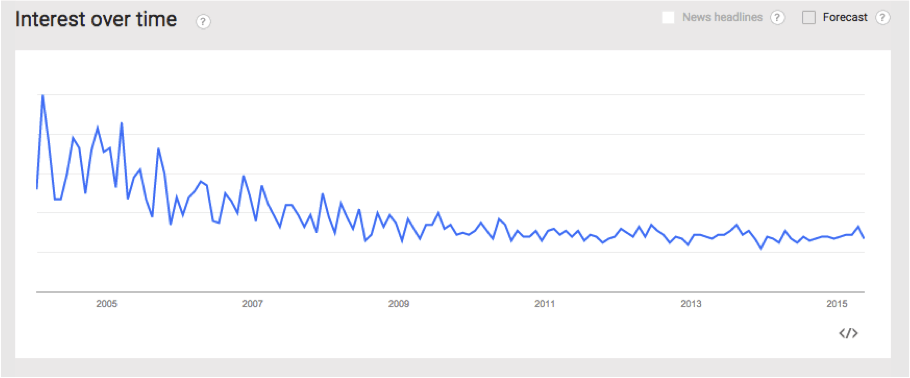 We worked with a client whose traffic was consistently dipping down month over month. Not enough to warrant a real panic moment or make us think that the site had been penalized in some way, but either organic growth was flat or a small percentage was lost month over month. The kicker was they were ranking in the top 3 spots for most of the keywords they cared about. So what was happening? How could they be ranking so well and not growing organically?
We looked into Google Trends at their most important keywords and noticed an eye-opening trend—people just weren't searching for their products.
 In ten years, search interest in their most important keywords (that were 100% exactly what their products are) has essentially halved. When there are fewer people searching there are fewer organic visitors to be had. It doesn't matter how well you are ranking, if there are only 100 people looking for your products than you'll never pull more than that 100 people. The traffic just isn't there!
This discovery promoted a whole flurry of questions: if not these keywords, than how are people searching? Is the industry as a whole in trouble because people no longer need these products? If so, than what has replaced these products? And how are people searching for that? It's not that their SEO program had failed them, but rather that the pool of potential visitors had been steadily shrinking over time. It didn't matter how great their website looked, how well-written their content, how unique their value proposition was—if their audience was drying up there was only so much their SEO could do to draw in those remaining visitors.
Companies that have been in business for more than a few years understand that their audience needs change over time, and if you want to stay in business you need to adapt or ultimately die. At some point it is no longer an SEO issue, but rather a business problem your company must tackle. What new products can you launch to meet your audience's new needs? How you can evolve existing products to keep up with the times? Changing courses is never easy, but once you recognize that the way things used to work (and the way people used to search) has become irrelevant you need to change in order to stay alive.
Categorized in: SEO
LIKE AND SHARE THIS ARTICLE:
READ OTHER DIGITAL MARKETING RELATED ARTICLES FROM THE BRICK MARKETING BLOG: