Sales and Marketing Need to Work Together
Written by Nick Stamoulis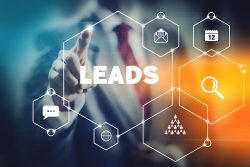 Departments in businesses tend to function in their own little bubbles. This isn't a good approach because many of these teams could easily cooperate with one another and make their jobs easier, while also help the business as a whole. This is especially true with the sales and marketing departments. Both departments can work towards the common goal of growing the business. Marketing would help attract the leads, the sales department would convert those leads into new business. Here's more information about this:
Sales and Marketing Should Aid Content Creation
Content creation is a valuable part of any digital marketing strategy. In order to maximize the effectiveness of this content, sales and marketing could collaborate on it. The sales team is on the front line and they actually converse one-on-one with the customers. When the potential customers speak with sales, they may have questions or doubts about your product or service. Marketing can take these issues and then create content that answers these queries. This may create an avenue for attracting more qualified leads so that the sales department could close the sale.
Brainstorm Together About Strategy
Marketing and sales strategies may be different, but they are actually two sides of the same coin. While marketing strategies deal more with the promotion of products and services, as well as building a brand and customer loyalty to that brand, sales strategies are more about selling those goods straight to the prospective customer, and gaining a competitive advantage over other similar companies in its methods of doing so. This means that marketers capture the public interest over the long term while salespeople are mostly in it for the short term.
By working together, marketing and sales can determine what attracts a customer to their business both now and in the future. By merging their respective strategies, they can aid each other with their common goals to push products and services forward to public, thereby increasing profit.
Talk About Lead Conversion Together
Lead conversion is a sticky topic for both the marketing and sales teams. Marketing draws in leads through advertising campaigns and content creation as well as building a brand that attracts prospects. It is then the job of the sales team to take those leads and convert them into loyal customers of the business's services or products.
Therefore, it is crucial that salespeople and marketers set up meetings to have frank conversations about what is working and what is failing or even getting a lukewarm response as far as leads are concerned. Because prospective consumers are always going to be moving targets, it is important to collaborate on who to hone in on and the particular method of how to convert those leads into paying customers.
Both sales and marketing teams have one common goal, and that is attracting consumers. By working together, they can assist each other in meeting goals and getting the company to where it needs to be. This collaboration will also expedite the journey along the path to expansion and profitability. If your sales and marketing teams are not already working together, this is something that should be implemented to maximize success.
Categorized in: Digital Marketing
LIKE AND SHARE THIS ARTICLE:
READ OTHER DIGITAL MARKETING RELATED ARTICLES FROM THE BRICK MARKETING BLOG: