What to Look for When Researching an SEO Firm
Written by Nick Stamoulis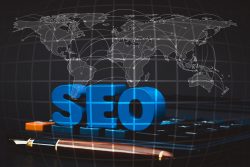 As a firm that specializes in B2B SEO services we understand the complex process of B2B decision making. Deciding that an SEO firm should be hired to improve the search presence of a business website is a step in the right direction, but it also means that there will be some work involved on the part of the business that is looking for a firm. There are so many firms to choose from and it will take some time to decide which one is the best fit. In some cases a business owner might be referred to a firm by a trusted colleague. Usually, that's a good place to start. But what if you don't have any connections or are brand new to the SEO game?
Here's what to look for in a reputable SEO company:
Dominant search engine presence
You are hiring an SEO firm to improve your search engine presence and get more qualified traffic to your website, right? A good SEO firm should be able to do the same for their own site. "SEO firm" and "SEO company" are extremely competitive keywords. But what about "[insert location of firm] SEO company"? The firm that you are thinking of doing business with should appear towards the top for that search term. The next check should be to do a branded search for the name of the company. In addition to the company website, there should be lots of other links that appear. An SEO firm should know how to dominate the search results for their own brand name. Social pages, blog posts, local profiles, and press releases should all appear.
Legitimate testimonials
A reputable SEO firm will have no problem displaying legitimate testimonials from satisfied clients on their website. If an SEO firm is doing a good job, clients are usually happy to provide a testimonial. A legitimate testimonial includes the full name of the person giving the testimonial and the company. If the testimonial is from someone like "Dan- Insurance Company" that's a red flag. Dan that works at "Insurance Company" could very well be a made up person. Don't fall for that trick.
Reasonable pricing
During initial discussions with possible SEO firms, a typical question that potential clients ask is "how much?" If the number seems really low ("We can get you 1,000 links for $59.99") the quality of the work is also probably very low. Just like with anything else, you get what you pay for. While the cheap option may be tempting, it probably won't really improve your SEO much or could even result in some bad links pointing to your site. Fixing the problem will end up costing you more in the long run.
Successful track record
If you find an SEO firm that has a successful track record, reasonable prices, and is always accessible to clients- work with them! Don't worry so much about whether they specialize in your niche or not. Many SEO firms don't specialize which is actually a good thing. That way, they look at each new client with a fresh perspective.
Categorized in: SEO
LIKE AND SHARE THIS ARTICLE:
READ OTHER DIGITAL MARKETING RELATED ARTICLES FROM THE BRICK MARKETING BLOG: