Get to Know Your Target Audience for Social Media
Written by Nick Stamoulis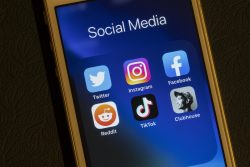 Social media is a great tool that is part of digital marketing that is great for connecting with your audience and building trust. In addition to reaching people who are interested in similar topics, you can use social media to discover who your target audience is. This insight will help you craft a social media strategy more aligned with your business objectives, target market niche, and brand tone of voice. However, how you execute your social media depends on your target audience. Here are some tips that will help you find your target audience:
What is Your Competition Doing?
One of the best ways to discover your target audience is to research your competitors' social media strategies. Look at their social media accounts to know what kind of content they're posting, and see if you can learn anything from their content that can be applied to your social media strategy. You can also use social media comparison tools to see which social media accounts post the most and compare your competitors' content with their social posts. This will give you an idea of what is going on in your industry, so that you can decide which of these strategies you should be adopting, as well.
Determine the Size of Your Audience
Finding out the exact sizes of your target audience is essential because it will give you a great idea of how many followers you can expect. You can use social media analytics to help you determine the size of your target audience. Social media analytics can help you discover how many people are viewing your posts, how often they're viewing them, and their engagement rate with your content.
Decide Which Social Media Channels to Use
There are so many social media channels to choose from it can be overwhelming to know where to start. To begin, decide which channels you'd like to focus on, and then select based on your target audience's social media usage habits. Certain channels might have a more significant following than others, so do your research to see which ones are the most popular among your target audience.
Connect with Your Target Market
As you're creating content for your social media channels, you want to ensure you're creating content specifically for your target audience. This is the perfect way to get engagement from your audience and make a good impression of your brand among them. It's also essential to ensure that the content you create is tailored to your brand tone of voice and your business objectives.
Once you have social media posts and ads on your channels, it's time to connect with your target audience. You want to start building relationships with followers by making them feel like part of your brand community. You also want to ensure that you're responding to comments on your posts or creating videos responding to your target audience's questions or comments. This will help establish a sense of community and show that you're listening to your customers.
Finding your target audience on social media takes time, patience, and practice. Once you have a better understanding of your audience and their preferences, you'll be able to create more engaging content that solves their problems and helps them achieve their goals.
Categorized in: Social Media
LIKE AND SHARE THIS ARTICLE:
READ OTHER DIGITAL MARKETING RELATED ARTICLES FROM THE BRICK MARKETING BLOG: